Fitch lowers US credit outlook on deficit worries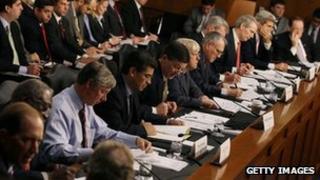 Fitch ratings agency has revised its outlook on the US from "stable" to "negative" after a Congressional committee failed to agree deficit cuts.
The move "reflects Fitch's declining confidence that timely fiscal measures will be forthcoming," it said.
Fitch affirmed the US's coveted AAA rating, but warned that this may be cut unless the country comes up with a "credible plan" to tackle the deficit.
The US national debt has just risen above $15 trillion (£9.67 trillion).
Last week, a so-called "Super Committee" of six Democrats and six Republicans said they could not agree by their deadline on deficit reduction.
This failure will set in motion automatic cuts that should result in lowering the deficit by $1.2tn over 10 years.
The cuts are designed to be split evenly between domestic and military programs.
In August, rival agency Standard & Poor's cut the US rating to AA-plus from AAA in an unprecedented decision, citing concerns about the government's budget deficit and debt burden.
But last week both S&P and a third agency, Moody's, said the committee's failure would have no immediate impact on their ratings.