US new home sales up in October but prices fall back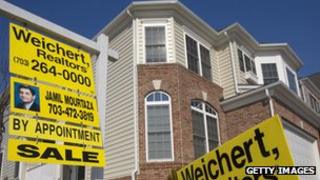 Americans bought slightly more new homes in October but prices fell, according to the US Commerce Department.
New-home sales increased 1.3% last month to a seasonally adjusted annual rate of 307,000.
However, the figure is less than half the 700,000 annual rate that experts believe is needed to sustain a recovery.
The average price of a new home fell 0.5% to $212,300 (£136,000).
It comes as the number of new homes for sale in the US fell to a record low of 162,000, hampered by a lack of credit available to developers.
Steven Wood, chief economist at Insight Economics, said the small number of new homes for sale should help the housing market recover quicker when demand recovers.
But he added: "A sustained rebound in new home sales appears unlikely."
Sales of previously owned homes have also suffered, down to an annual rate of 4.97 million last month - well below the six million needed for a buoyant property market.
The US Federal Reserve has kept short-term interest rates at almost zero since 2008 in a bid to encourage a housing market recovery.
But stricter lending rules including larger deposits are deterring buyers.