Public sector pension strikes: Your rights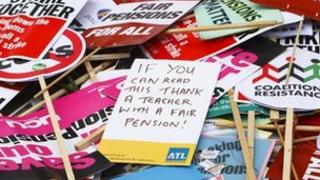 Schools will be shut, flights delayed and council services hit on Wednesday as up to two million public sector workers go on strike over pensions.
The impact will be felt across the country, with parents facing childcare issues and some travellers experiencing cancellations.
So what rights exist for workers, consumers, and the strikers themselves?
My child's school is shut. Can I take the day off?
Many headteachers will have told parents some time ago about their school's closure owing to the strike.
In this situation, parents will need to consult their employment contract to see if they can take the day off to look after their children.
Generally, employers should be flexible, but most parents will find any day off will be regarded as paid leave. If that leave quota has been used up for the year they can ask for unpaid leave or suggest working from home.
Some schools may make a last-minute decision to close, if they discover not enough staff have come in. In that situation, parents may have rights in their contract to take emergency dependent's leave.
Expect employers to be flexible, but to also keep a keen eye on unauthorised absence on the day.
Is transport disruption going to leave me stranded?
In most parts of the country, public transport will continue as usual - and will not provide an excuse for failing to turn up to work.
Few transport workers' unions are involved, although there are some major exceptions.
Travellers will need to make alternative arrangements if they are affected by the shutdown of Northern Ireland's public transport system or disruption to the Tyne and Wear Metro.
One major predicted pinch point is Heathrow, owing to industrial action by UK Border Agency staff. Airlines still have a duty to get passengers from A to B, so they must offer alternatives at no extra cost, or a refund, if a flight is seriously delayed or cancelled.
If delays occur, airlines must offer food and drink to passengers, and accommodation if necessary. But there will be no extra compensation because a strike is beyond airlines' reasonable control.
Anyone with a package holiday will have all elements of their break covered, such as hotels and cars.
Ports could also suffer major disruption. Rights for ferry passengers are not as precise as for airline passengers. Terms and conditions on tickets outline people's rights, which usually include a refund or alternative sailing.
However, generally, ferry and airline passengers who are delayed, and made bookings for cars or hotels separately, must claim for any such lost "extra" bookings on their travel insurance.
However, this cover will be valid only if the insurance was bought before the strike date was announced.
A claim could also be made for bookings costing over £100, if they were paid for on a credit card.
I have my driving test booked in for Wednesday. What happens to me?
Theory tests will continue as usual.
Those with a practical test are being encouraged to turn up to the test centre by the Driving Standards Agency.
If the test is cancelled, a new date will be rebooked automatically at no extra cost and the candidate will be sent details of the new test.
A claim can also be made for expenses such as travel to the test centre and hire of an instructor's car, if a test is cancelled. If a candidate does not turn up they will not be entitled to claim these expenses and will have to rebook the test themselves.
I am an agency worker. Can I be drafted in to cover for striking workers?
No, there are legal restrictions on using agency workers in this way.
Employers cannot bring in temporary cover from outside the organisation, explains Jonathan Exten, partner at the DLA Piper law firm.
"Non-striking workers can be asked to cover for colleagues, but many union members will refuse to do so and employers may not be able to enforce this depending on what contracts of employment say," he says.
I am going on strike. Can I be sacked?
No, because this is protected industrial action.
Although it is technically a breach of an employment contract, the action has been lawfully called.
That is why there was a secret postal ballot, a majority vote in favour of industrial action and notice given to the employers by all the unions involved.