UK economy forecast cut by BCC for fourth time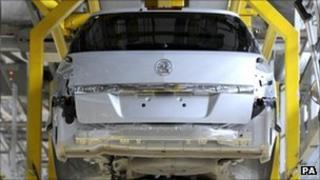 The British Chambers of Commerce (BCC) has cut its forecast for UK economic growth for the fourth time this year.
It is now forecasting growth of 0.9% this year and 0.8% in 2012, and said growth will be "very weak" for the next two to three quarters.
Only two months ago, the business lobby group had expected growth as high as 1.1% for 2011 and 2.1% next year.
The BCC blamed the slowdown in part on the government's austerity measures, as well as the crisis in the eurozone.
The group says a recession will be avoided, but it is calling on the Chancellor, George Osborne, to take "bold measures" to improve infrastructure and help business and exporters.
Meanwhile, another business lobby group, the CBI, released two gloomy surveys.
Its monthly service sector survey said business volumes for the sector had fallen at their fastest rate since May 2009.
The sector accounts for around three quarters of economic activity in the UK.
The CBI's latest distributive trades survey suggested that High Street sales volumes fell on a year ago in November.
It marked the sixth month in a row that sales have declined, according to the surveys, with another drop in activity expected by respondents in December.
Meanwhile, it said, retailers are reducing their headcount at the fastest rate in two years.
Bank guarantees
On Tuesday Mr Osborne will deliver his Autumn Statement, and the independent Office for Budget Responsibility will publish its latest forecast for the UK economy, which is also expected to be revised downwards.
Like the BCC, the OBR has also revised down its growth predictions previously.
The BCC said it expected the Bank of England to provide another £50bn into the economy through its quantitative easing programme.
The Bank has already recently upped its asset buying programme by another £75bn to £275bn.
But the BCC called on the Bank to start buying assets directly from businesses.
The chancellor has announced another form of liquidity-boosting measure called credit easing, whereby it will offer up to £40bn in guarantees on borrowing by UK banks, provided that the money raised is then use to lend to small and medium-sized firms at cheaper interest rates.
BCC chief economist David Kern said: "Due to the combined impact of the eurozone crisis and the UK's fiscal austerity plan, we expect growth to be minimal until mid-2012 and then improve gradually.
"The Chancellor's deficit reduction strategy has earned the UK credibility in the financial markets. It also gives him the flexibility to do more to support growth when he announces his plans tomorrow."
The organisation expects unemployment to continue to rise, to reach 2.77m next year, and for youth unemployment, which this month rose to more than a million under-24 year olds, to hit 42% next year.