Belarus signs gas deal with Russia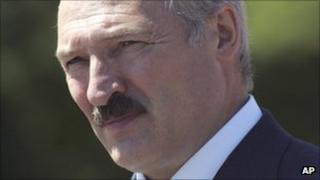 Russian Prime Minister Vladimir Putin has announced a deal with Belarus to sell it gas at 60% below the price charged to other European countries.
In return, the Russian state-owned gas monopoly Gazprom will increase its ownership of the Belarus gas pipeline firm Beltranshaz from 50% to 100%.
Belarus is responsible for piping 20% of the Russian gas sold to Europe, with the rest going via Ukraine.
Mr Putin also said Russia would lend crisis-struck Belarus $10bn.
The loan will be used to pay for the construction of a nuclear power plant.
Protests
The Belarus economy has faced a currency crisis, with the value of its rouble having dropped by 65% against the dollar this year.
The country will be able to buy gas next year at a price of just $164 per thousand cubic metres, compared with the $400 price paid in Europe, according to Mr Putin, something that he called a "integration discount".
"This is a major issue that will settle our relations with Belarus for years to come and will ensure our energy's unconditional transit through Belarus territory to consumers in Western Europe," he said.
The deal will save Belarus about $2bn - less than the $2.5bn price that Belarus officials said in June that they hoped to sell their stake in Beltranshaz to Russia for.
Mr Putin said Russia would also allow its neighbour to "restructure" gas debt payments falling due next year.
The President of Belarus, Alexander Lukashenko, has faced popular protests against his rule in recent months.
It follows a collapse in the value of its currency that has pushed the price of imported goods to unaffordable levels for many people.
The crisis has left the government desperately short of hard currency.