First-time buyers rarely seen, say estate agents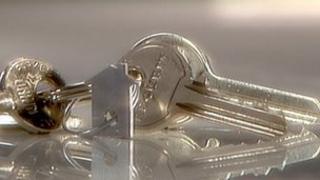 First-time buyers are "rarely seen", estate agents say, with their share of the UK housing market having fallen to a three-year low.
Sales to those buying their first home fell from a 22% share of the market in September to a 16% share in October, figures suggest.
The National Association of Estate Agents (NAEA) said this was the lowest proportion since December 2008.
One economic research company has also scaled back its price growth forecast.
The Centre for Economics and Business Research (CEBR) said that weakness in the economy and a squeeze on disposable incomes had led to the downgrade in its prediction of house price rises.
'Heavy blow'
The level of sales and homes going on the market in the UK was little changed in October compared with September, according to the NAEA.
However, it said that first-time buyers had suffered a "heavy blow" to their share of the overall housing market.
The association said that, despite some evidence of mortgages being approved by banks, there remained significant lending barriers for those trying to buy their first home.
"The first-time buyer is rarely seen as they struggle to get mortgages and over-optimistic vendors with a lack of motivation continue to stifle certain areas of the market," said Martyn Baum, who represents the NAEA in the Midlands.
The survey of estate agents was published as the CEBR said the average UK home would increase in value by 3.2% in 2015. Earlier this year it had predicted that prices would go up by 4% in 2015.
It still believes that house prices will rise from next year.
The research company also said that the government's housing strategy could initially push up prices slightly but would have no effect on values after the first year.