Fuller Smith & Turner sales buck gloomy trend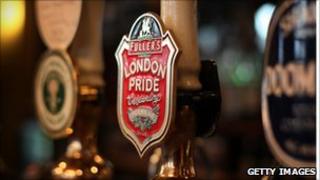 The brewer and pub operator Fuller, Smith & Turner has reported higher sales and exports despite the gloomy retail environment.
Its profits before tax for the six months to 1 October were £16m, compared with last year's £16.8m.
But the company, whose most famous beer is London Pride, reported a 21% rise in exports, and a rise in sales volumes at its managed pubs of 4%.
Fullers' statement said it had turned in a "good set of results".
During the period the company, which own hotels as well as pubs, added 12 new properties to its 350-strong chain, including the Cabbage Patch pub near the English rugby stadium at Twickenham.
The estate is made up of both managed and tenanted pubs, and Fullers said the tenanted ones had had their best-ever spring and summer period.
Michael Turner, Fuller's chairman, told the BBC: "We are doing as well as we possibly can be in this time. "
He said the results highlighted the success of the business's long term strategy and its policy of investing in its assets.
"If you keep the pubs really well invested you will get the results."
Fullers, whose other beers include ESB, has recently launched a new stout called Black Cab, which it said should provide an "interesting export opportunity".
One in six barrels brewed by Fuller is exported.