Three Olympus board members quit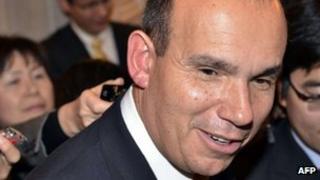 Three directors have quit the Japanese camera-maker Olympus, which is embroiled in one of the country's worst corporate scandals.
The firm admitted covering up huge losses for decades after former boss Michael Woodford questioned massive payments made to consultants.
Mr Woodford, who was sacked last month, has held a meeting with the board that he described as constructive.
Shares in the company rose by 25% amid hope that the firm can avoid delisting.
Mr Woodford had questioned about $1.3bn (£840m) in advisory fees paid to obscure firms, as well as money spent on takeovers that was subsequently largely written off.
Olympus initially denied wrongdoing, but then admitted it had been covering up huge investment losses.
Chief's return?
Mr Woodford was able to attend the board meeting because he currently remains a director of the company.
The three former directors who will now not be present include Tsuyoshi Kikukawa, who resigned as chairman last month, but until Thursday remained in a non-executive role.
The two other directors who have now stood down from the board are the firm's former vice president and former auditor.
Olympus has until 14 December to file its latest six-month results or else be delisted from the Tokyo Stock Exchange.
Mr Woodford, who has the backing of several of Olympus' largest shareholders, has said he would be prepared to return to the chief executive position.
However, most analysts say it is unlikely that the Olympus board will reappoint him.
Analyst Martin Schulz, from Tokyo-based Fujitsu Research Institute, told the BBC's Asia Business Report: "It will most likely be someone else who has been following the scandal [this is appointed the new chief executive].
"I would rather guess it will be someone from within the company, from the successful core of the company, which has a very high interest of getting this company going again."
The decision to sack Mr Woodford was taken unanimously by the Olympus board.