Japan's consumer prices fall on weak domestic demand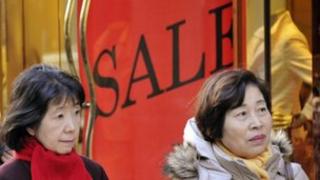 Japan's consumer prices have fallen for the first time in four months, as weak domestic demand and deflation continue to weigh on growth.
Core consumer prices, which exclude fresh food, slipped 0.1% in October, the statistics bureau said.
One of the reasons for the fall is last year's cigarette tax rise falling out of the calculations.
The strong yen as well as Europe's debt crisis are hurting the growth outlook for the world's third-largest economy.
Yen strength
In March, Japan was hit by a devastating earthquake and tsunami that caused much damage in the north-east of the country.
The government this week passed an emergency budget of $155bn (£100bn) to try to boost domestic demand, however the effects won't be felt for a few months.
"The data underscores the sluggishness of domestic demand, as the economy's recovery has taken a breather because of a delay in reconstruction efforts and global economic slowdown," said Takeshi Minami from Norinchukin Research.
Japan's economy bounced back from recession, triggered by the earthquake and tsunami, in the three months to September.
However, the pace is expected to slow because of the pressure on exporters from the strong yen, as well as the bleak global outlook of growth.
Oil prices
The slowing global economy has caused a decline in crude oil costs. That combined with the yen's appreciation have made energy imports to Japan very cheap.
Gasoline prices at the pumps have dropped 1% since September in Japan.
The yen has advanced 6% against the dollar in the last six months,
Some analysts said consumer prices in Japan could further decline as the slowing global economy continues to weigh on the price of oil.