Breakfast's Business diary: Steph's lookahead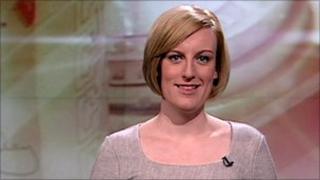 I'm Stephanie McGovern. Here's my Business look ahead for the week: 27th February to 2nd March
"After Lloyds and RBS reported hefty losses - HSBC will be the next bank to tell us how it performed in 2011. Unlike many of the other banks in the UK, HSBC didn't get any government help when the banking crisis took hold in 2008. So is it doing any better? We find out at 7am on Monday, and of course it's hard to talk about banks without mentioning bonuses. When we get the results we'll also find out how much the bank is paying out to its 300,000 employees.
The owner of Primark, Associated British Foods, will also be updating us, which should give us a better idea of how one of our biggest high street names has fared over the festive season. And in more corporate results, British Airways owner IAG will reveal whether flight sales have soared or just taxied the runway. In December they bought struggling BMI - so we should learn more about how they'll be using the business.
There was a significant rise in the number of homes sold in January, compared to the previous year, according to HMRC. Throughout the week we'll find out more about what's happening in the housing market when we get the latest results from the home builders, including Bovis Homes, Taylor Wimpey and Persimmon. As well as this, the Land Registry will reveal their latest figures on Tuesday. These are often deemed the most reliable because they report the actual number of houses sold - and many other indices are based on potential sales or mortgages. If you're hoping to move in 2012 these may give a good insight into the property market.
On Wednesday the British Retail Consortium will produce their latest confidence report. There have been some glimmers of hope in the economy recently but will this have boosted confidence? We'll find out on Tuesday.
A deal has been struck for Greece but still there are lots of problems in Europe to solve. The European heads of state are due to gather in Brussels on Thursday to agree a so-called fiscal compact between the Eurozone nations. This is a deal aimed at tightening the budgetary discipline in the Eurozone - in short it's a plan to get all the countries in the Euro to run their economies in the same way, with the same ideas. We could get some indication of changes afoot for our continental neighbours.
And finally towards the end of the week we'll be asking about our energy future: is nuclear power still the right direction for a secure power supply or should other methods be reconsidered? We'll be visiting an old nuclear site that's being shut down, and asking 'What's next?'
As ever there is also a high chance that I will be out and about somewhere in the week talking to UK businesses.
Contact me via programme email or twitter
If you do have any suggestions of firms I should visit do contact me, either email bbcbreakfast@bbc.co.uk or tweet me @stephbreakfast