Greek euro exit: How would it hurt people in the UK?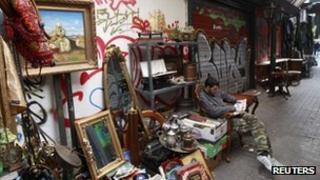 The eurozone's financial turmoil rumbles on, seemingly with no resolution in sight.
So much so, that some economic and business commentators have suggested the complete collapse of the currency is now a strong possibility.
Greece is still the country which appears most at risk of leaving the euro, or being thrown out, with the adoption of its own currency again, maybe a new drachma.
What would that mean for your personal finances? Plenty of people are pondering just that.
"We have seen a 155% increase in individual transactions, to sell euros for sterling in the past year," says Matthew Knowles, managing director of currency firm HiFX.
"There are two overwhelming reasons: People are worried about the euro depreciating against sterling, and people are scared about the state of European banks and would rather diversify some of their money back into UK banks."
Dr Tien Tran, chairman of foreign exchange firm Currency Solutions, has seen a similar trend among some of his firm's customers.
"We get an increased flow of Irish customers moving money away from Ireland and into the safer havens [such as] the UK and other currencies," he says.
The frequent traveller to Greece
UK residents made 1.7 million visits to Greece in 2010, for holidays, business, and to visit friends and relatives.
That was fewer than Holland but more than Belgium.
By definition, anyone going to Greece needs euros to spend while there.
If that country left the euro and readopted the drachma, the process would almost certainly involve a simultaneous devaluation of the new currency against the euro and the pound.
In the short term that would be damaging for Greeks, the real value of whose savings and properties would slump.
The cost of imported goods in Greece would shoot up too, as importers were forced to jack up their local prices to pay their foreign suppliers.
But visitors from abroad would find the value of their pounds, euros or whatever, similarly worth much more.
Rupert Lee-Browne, of Caxton FX, says ordinary travellers should bide their time.
"If they intend to go to Greece next year it may not necessarily be prudent to buy euros to use as travel cash," he says.
"It is probably better to wait to see what happens - in the short term it will be good for the traveller in any case, because if there is some sort of devaluation their holiday is going to be a lot cheaper."
The UK expatriate who lives in Greece
There are about 25,000 UK expatriates living in Greece.
The UK's Department for Work and Pensions (DWP) says there are 5,300 recipients of a UK state pension living there.
Anyone in Greece receiving a pension or other income, denominated in pounds or euros, would see their purchasing power shoot up in the event of a new local currency devaluing.
"British pensioners living in Greece with no intention of coming back, whose income is still in sterling, will benefit," explains Matthew Knowles.
"They will get an appreciation of sterling to drachma, which will make them wealthier in terms of their everyday spending in Greece."
The UK citizen who is a landlord in Greece
Some UK residents own holiday homes in Greece and let them to other holidaymakers for part of the year.
A currency changeover, and devaluation, would present them with a dilemma.
Should they continue to charge in euros or even pounds, which would make their villa or cottage look very expensive to rent by local standards?
Or should they charge in new drachmas, which would probably make their rents cheaper and more attractive, but less lucrative?
"I would change my terms and conditions to make sure my rental income was always in euros - so long as you are not earning in drachmas and having to convert into euros or sterling, that is the most important bit," advises Rupert Lee-Browne.
Matthew Knowles warns that landlords in this situation have something to fear.
"Those people will be right at the heart of the devaluation - if we expect a 50% devaluation, it halves their income in sterling terms," he says.
"If they can continue to be paid in euros they should, but I think the likelihood of finding someone who will do that will be remote."
Greeks in the UK
There are 30,000 people of Greek birth living in the UK and some still have financial and business links there.
They may be receiving income from Greece, currently in the form of euros, or have assets back home such as cash, businesses or properties.
A devalued independent currency would slash the value of any such assets still held there.
And, frankly, there is very little these people can do about that, unless they choose to sell up and get their money out now.
"If you are a Greek house owner and you are looking to sell in the next two or three years, the best thing you can do is get out now rather than in two or three years time, when your house will necessarily be worth less," says Rupert Lee-Browne.
At Currency Solutions, Dr Tien Tran says the position of Greeks who happen to own UK businesses is not as bad.
"It's good for them because if Greece acquires its own currency again, the chances are that the currency is going to devalue quite rapidly and that means they can buy more assets in Greece for a lot less," he points out.
Exporters to Greece
The people who would probably be most exposed to a new, devalued, Greek currency are the businesses that export goods there.
They would have to make some rapid decisions on pricing, to avoid being priced out of Greek markets.
In the wake of a devaluation, a UK exporter would find that its sales were in danger of slumping if it tried to insist on charging as much in new drachmas as they had been paid in pounds or euros before.
On the other side of the coin, Greek people or businesses using a new devalued drachma would find they had become impoverished, and would simply not be able to afford the rocketing price of imported goods.
"People who export to Greece are going to find the ability of Greek importers to buy sterling-based products is going to be very challenged," warns Matthew Knowles.
Rupert Lee-Browne says small and medium sized enterprises that export to Greece are at great risk, unless they are being paid upfront.
"Even if Greece were to stay in the eurozone, if the economy falls apart even more than it has done - and you get general strike after general strike, no-one is buying anything at all, there is economic contraction, and the whole thing collapses inwardly - they [UK exporters] will be hit by this, their revenue will disappear."
Importers from Greece
UK importers, on the other hand, would find under devaluation that they could pay relatively less for the goods they had been buying.
But the businesses supplying them would be in even greater danger of going bust if the Greek economy imploded or a devaluation took place in a chaotic fashion.
So importers will have to consider if they will receive the goods at all for which they have paid.
"The Greek economy is going to have a very tough time if it falls out of the eurozone," says Matthew Knowles.
"But the sub-set of that is that their exporters should do very well, so chose well the companies you do business with."
People with money in a Greek bank
The amount of money on deposit in Greek banks has fallen by 21% since January 2010, according to the Greek central bank.
What would happen if Greek banks went bust?
On the face of it, their savers would have their deposits protected up to the value of 100,000 euros, the current limit under European union rules.
But that all depends on a country's banking system, and its government, being able to back up any losses suffered by its own compensation scheme.
This problem was highlighted in Iceland back in 2008, when the country simply did not have the cash to compensate savers with Icesave, the internet subsidiary of Landsbanki.
When that went bust, the then UK Chancellor, Alistair Darling, took the decision to use UK money to bail out more than 200,000 UK savers involved, because Iceland simply did not have the money to do it itself.
"It is up to the government to support the banks themselves, and if it cannot do that then some banks will go bust and normal people will lose their money," warns Dr Tran.
Mr Lee-Brown says devaluation could become very messy for both individuals and banks in Greece.
"Inflation will go through the roof and banks will not be able to recover half the money they are owed because people will default," he says.
"People will be seeing what the government is doing, which is in effect defaulting, and people will say if it is good enough for the government it is good enough for me - and the banks can take a haircut too."