Portugal debt ratings cut to 'junk' status by Fitch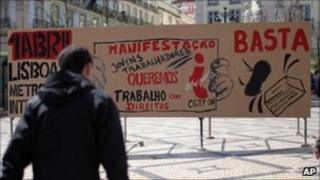 Portugal has had its debt rating cut by Fitch to so-called "junk" status, and warned it could be cut again.
Fitch made the downgrade because of its "large fiscal imbalances, high indebtedness across all sectors and adverse macroeconomic outlook".
Portugal, along with Greece and the Irish Republic, has received bailout funds from the eurozone.
The news comes as a 24-hour strike in Portugal brought the country to a halt in protest against austerity measures.
The downgrade would make it more expensive for Portugal to borrow - if it were not already being bailed out.
Portugal received a bailout of 78bn euros from the eurozone and the International Monetary Fund and will not need to borrow from the markets until at least the end of 2013.
Other eurozone nations, such as Italy and Spain, have seen the yields on their debt rise to record highs against Germany, the safest and richest of the 17 nations that use the euro.
Investors fear Spain or Italy may be next to need a bailout.
Portugal's debt rating was cut by one notch, to BB+ from BBB-, and put on "negative outlook", meaning it is likely its debt will be downgraded again.
The latest rating means it is sub-investment grade, or "junk" in the terminology of the bond markets.
The aim is to cut Portugal's deficit of 9.1% - three times the eurozone's limit - to 3% by 2013.