Alibaba profits jump by 12% but miss expectations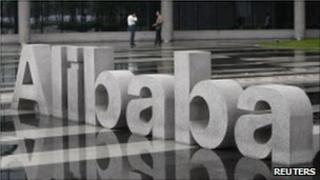 Chinese internet company Alibaba has posted a 12% rise in quarterly profits, but the figure was still below analysts' forecasts.
Net profit for the three months to September was 409.7m yuan ($63m;£40.5m) but less than the 432m yuan expected.
Alibaba blamed the weak US economy and the eurozone debt crisis.
"We are more cautious about the global economic outlook and believe that it may have a prolonged impact on China's export sector," the firm said.
Yahoo owns a 43% stake in Alibaba.
"The third quarter of 2011 presented a picture filled with challenges arising from the weaknesses in the US economy and the debt troubles in the euro zone, which have threatened to spin out of control," Alibaba said.
Alibaba shares rose 2% earlier on Thursday. They have shed more than 30% of their value so far this year.