Unexpected rise in German business confidence index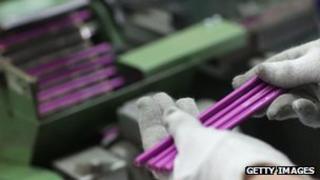 German business sentiment unexpectedly rose in November for the first time since June, according to an Ifo survey.
The influential think tank's business climate index, based on a monthly survey of 7,000 companies, edged up to 106.6 from October's figure of 106.4.
The figures provided some relief following Wednesday's German government bond auction, which did not sell out.
An Ifo economist said the figures suggested Germany will avoid recession this winter.
"A slowdown will come but not a drastic one," said Klaus Abberger.
"We are not in free-fall."
Also on Thursday, the Federal Statistics Office left its first estimate of economic growth unrevised at 0.5% between July and September.
"Detailed GDP for the third quarter shows that the drivers of German growth, exports and machinery investments, developed strongly during the summer," said Ralph Solveen, at Commerzbank.
"The outlook has, however, worsened significantly. Foreign demand in particular has weakened considerably over the past few months, and the growing uncertainty about the sovereign debt crisis may lead more companies to at least postpone some investments."