US credit rating 'unaffected' by debt deal failure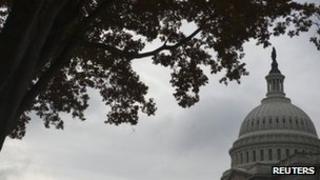 Credit rating agency Moody's has said the failure of a US congressional committee to agree a deficit reduction plan earlier this week does not affect the country's credit rating.
Moody's said the lack of agreement "does not change the US fiscal outlook".
The agency has the US on a top, AAA rating, but with a negative outlook.
The US national debt is above $15tn and the government wants to reduce its deficit to reassure financial markets.
A congressional committee tasked with reducing the deficit by $1.2tn (£762bn) announced late on Monday that it had failed to reach agreement.
The outcome means automatic cuts outlined in the bill that created the committee should take effect from 2013.
They are to be applied over the next 10 years, split between defence and domestic budgets. A few programmes are to be protected, including Social Security and Medicaid.