James Murdoch quits executive boards of Sun and Times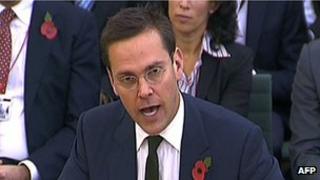 James Murdoch has resigned as director of the companies that publish The Times, The Sunday Times, and the Sun.
Records at Companies House show James Murdoch stepped down from the boards of News Group Newspapers Limited, publisher of The Sun, and Times Newspapers Limited in September.
The news comes ahead of a key BSkyB shareholder meeting amid calls that Mr Murdoch should resign from the company.
NGN ran the defunct News of the World, mired in phone-hacking allegations.
Mr Murdoch also quit a subsidiary, News International Holdings.
However, he remains chairman of News International and deputy chief operating officer of News Corp.
Tom Mockridge, former boss of Sky Italia who replaced Rebekah Brooks as NI chief executive in July, has taken over from him at NGN and TNL.
A spokesman for News International denied claims that James Murdoch was stepping back from News International, "as he remains chairman".