Nokia Siemens to cut 17,000 jobs, 23% of its workforce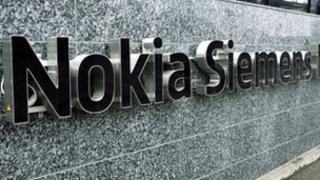 The struggling telecoms equipment maker Nokia Siemens Networks is cutting 17,000 jobs, 23% of its workforce.
The cuts from its 74,000-strong workforce should help reduce costs by some 1bn euros ($1.35bn; £860m), the company said in a statement.
The loss-making venture, owned by Finland's Nokia and Germany's Siemens, has faced stiff competition from rivals such as Huawei and Ericsson.
The owners are considering listing the venture as a separate company.
"This is a big move. I believe the goal is an Initial Public Offering [flotation]. That cannot be done with the current structure and operation models," said Jari Honko, an analyst at Swedbank.
Nokia Siemens chief executive Rajeev Suri described the planned layoffs as "regrettable but necessary".
"As we look towards the prospect of an independent future, we need to take action now to improve our profitability and cash generation," Mr Suri said.
"These changes didn't come out of the blue. When a new chairman was appointed earlier, they signalled that a strategy update would be coming," said Sami Sarkamies an analyst at Nordea Bank.
Cuts of this size were likely to be carried out in different phases said Sarkamies.
He said they were likely to have a positive effect on the company's share price.
"Savings of 1bn euros could translate into a ten-cent earnings per share improvement for Nokia," explained Sarkamies.
Traders use earnings per share as a key measure to value companies listed on the stock exchange.
The firm, which is a joint venture between Finland's Nokia and Germany's Siemens, has said the restructuring program will involve cuts across operations worldwide.
Shares in Nokia Siemens rose more than 2% to 4.27 euro after the announcement.
Nokia Siemens has been squeezed by market leader Ericsson and increasing competition from Chinese firms Huawei and ZTE.
It is not alone in the industry in announcing large-scale job cuts.
French rival Alcatel Lucent cut 12,500 jobs in 2007 while Ericsson cut 5,000 jobs in 2009 and a further 1,500 in 2010.
Struggling Canadian giant Nortel eventually filed for bankruptcy protection.
In its last trading statement the firm posted a 16% rise in sales to 3.4bn euro ($4.6bn; £2.9bn) which it said was "driven primarily by growth from the acquired Motorola Solutions networks assets".
In September, Nokia and Siemens had announced 500m euro of additional funding for the joint venture to strengthen the firm's financial position.