Daily Mail owner DMGT sees full-year profits decline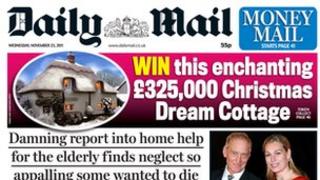 DMGT, the company which owns the Daily Mail, has seen profits slump as its regional newspaper arm suffers.
The company, which also owns the Mail on Sunday, Metro and more than 100 regional newspapers, saw annual pre-tax profits drop 15% to £125m.
Northcliffe Media, its regional division, saw operating profits fall 37% to £17m on revenues down 10%.
Its business to business(B2B) division fared better with operating profits rising 4% to £226m.
Northcliffe's advertising revenue fell 10% and it cut employee numbers by 19%, or 602 people, during the year as part of a cost-cutting drive.
The company said that has delivered 6% savings of some £15m.
Operating profit at A&N Media, its consumer arm, slumped by 26% on an underlying basis to £93m, as classified ads at Northcliffe Media struggled and national advertising at its flagship titles suffered.
A&N Media shed 740 jobs, 10% of the total, taking the headcount to 6,873.
Martin Morgan, DMGT chief executive, said: "Our UK consumer business has been impacted by the weak advertising environment, particularly in the third quarter, and higher newsprint costs resulting in profits down 20% for the year."
But he said that overall the results were "solid".
"Our international B2B companies have increased their revenues and profits."