Lloyds bank picks Co-op and NBNK for branch sale talks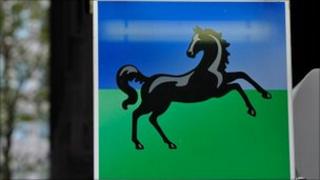 Lloyds Banking Group will continue discussions with two companies as part of its plan to dispose of 632 branches.
Business editor Robert Peston said the Co-op and banking newcomer NBNK have been chosen.
Sun Capital, which also expressed an interest in buying the outlets, has been rejected, the BBC understands.
Lloyds, part-owned by the government, is being forced into the sale to meet European Commission competition rules.
The group will also continue to work on an Initial Public Offering as a potential alternative to a direct sale.
Tim Tookey, Lloyds' interim chief executive, said: "We are very pleased with the level of interest and detail of the offers that have been made. We will now move quickly in parallel talks with each bidder."
As previously announced, the group is aiming to identify a preferred option by the end of the year.
Lloyds' chief executive Antonio Horta-Osorio this week extended his stress-related sick leave after being told by doctors that he should rest.