Hours and earnings: Little cheer for workers on pay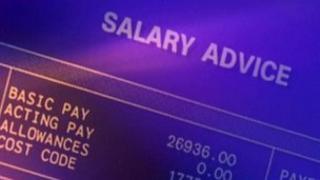 Earnings rose at far below the level of inflation in the year to April, although the pay gap between men and women narrowed slightly.
There was no change in median average gross weekly earnings for all UK full-time and part-time in April 2011 compared with a year earlier, official statistics show.
But the typical full-time employee earned £26,200 in the year to April, up 1.4% on the previous 12 months.
Female workers saw the biggest growth.
The median gross annual earnings level for full-time women was £22,900, up 1.9% on the previous year, the Office for National Statistics (ONS) said.
Earnings for men working full-time were a median average of £28,400, up 1.2% from 2010.
Pay gap
The figures are published by the ONS in the Annual Survey of Hours and Earnings.
The survey, drawn from a 1% sample of jobs and using data from the UK tax authority, reveals that the gender pay gap has narrowed, but has done so at a sharper rate for full-time employees.
Some 88% of working men are employed full-time compared with 58% of women at work. Consequently women are more likely to receive lower hourly rates of pay.
Overall, the gender pay difference, based on median hourly earnings for all employees, decreased to 19.5% from 19.8% in 2010.
However, the gender pay gap was wider than the average among the highest paid in the UK workforce.
Highest paid
The survey results come as the debate continues over the levels of executive pay, which the High Pay Commission has argued as "corrosive" to the UK economy.
The ONS figures show that the between 2010 and 2011, the hourly earnings - including overtime - of those in the top tenth of pay levels has risen by 1.8%.
For the worst paid, the pay increase stood at 0.1%.
Geographical differences were also in evidence with the highest average pay for full-time workers found in London, and the lowest in Northern Ireland.
The district with the highest-paying jobs was the City of London, at a median average of £981 a week full-time. The lowest-paid jobs were in Torridge in Devon on average at £333 a week.
The highest paid occupation was directors and chief executives of major organisations at £1,956 a week full-time, with the school midday assistants, at £233 a week full-time, being paid the least.
"The fall in the gender pay gap is very welcome, though with female unemployment at a 23-year high the main concern for many women will be keeping jobs, let alone securing higher pay," said TUC general secretary Brendan Barber.
"The figures confirm that 2011 has been a year of wage stagnation, with pay rises far outstripped by inflation, and low-paid employees being squeezed particularly hard."