Chinese manufacturing output hits a 32-month low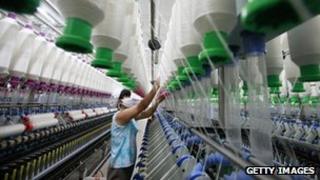 China's manufacturing activity fell to its lowest level in 32 months in November, according to the HSBC bank purchasing managers' index.
The news renewed fears that the economic powerhouse is losing steam, and contributed to 2% falls on the Hong Kong and Sydney stock markets.
China's PMI, a measure of the goods and services companies buy each month, fell to 48 from 51 in October.
An index reading under 50 indicates economic contraction.
China is the world's second-largest economy.
"Though a less-than-50 figure was expected, it suggested that China is no exception and is being hit by the euro crisis and global uncertainty," said Conita Hung, an analyst at Delta Asia Financial Group.
The figure is a preliminary indicator and the final fixed figure will be released on 1 December.