Lloyds Bank offers £12bn in new lending for businesses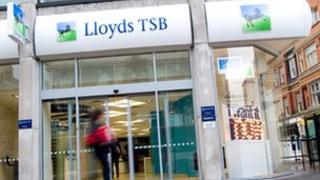 Lloyds Banking Group has pledged to lend at least £12bn to small and medium sized businesses in 2012.
The commitment is part of efforts by the group to bolster business confidence and stimulate growth.
The amount pledged by Lloyds exceeds the group's government-set target under Project Merlin.
"We want firms to know that as and when they need to borrow, we are ready and waiting to lend," said John Maltby, group director, Lloyds Banking Group.
The commitment from the state-backed bank comes as many small businesses are struggling to get credit in difficult economic circumstances.
Recent figures showed that whilst lending by Britain's big four banks to businesses had increased, lending to small businesses had actually fallen.
Project Merlin is a government initiative to get banks lending in order to stimulate the economy.
Under the project agreement, the big four banks have pledged to lend at least £190bn to firms this year, with £56.1bn going to small and medium sized businesses (SMEs).
Lloyds is the first bank to set a target for 2012.
"We are committing to lend at least £12bn next year, focusing on small businesses that are the lifeblood of our economy," said Mr. Maltby.
"There are no caps and no quotas - we will simply lend where the money is needed."