Korean pop firm YG Entertainment rallies on trade debut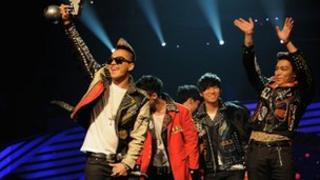 South Korea's YG Entertainment has rallied on its first day of trading on the stock exchange with its share price doubling.
Individual investors demanded 561 times the amount of stock offered in the company's initial public offering.
The company manages big names in Korean pop such as South Korean boy band Big Bang, and female group 2NE1.
YG's share sale comes after the success of rival companies S.M. Entertainment and JYP Entertainment.
Korean pop, also known as K-pop, has gained popularity outside of its home market with groups touring in Japan and other parts of Asia.
It has even hit Europe, with Big Bang members winning the Worldwide Act prize at MTV's Europe Music Awards this year.
"YG Entertainment has positive growth potential since royalty revenues from Japan are expected to triple next year," said Kim Shi-woo from Korea Investment and Securities.
YG's stock climbed to 78,200 won on the Korea Exchange, compared with the IPO price of 34,000 won.
"We are looking for the shares to reach 85,600 won within a year," Mr Kim added.