Bright start for Fifa's Chinese World Cup sponsor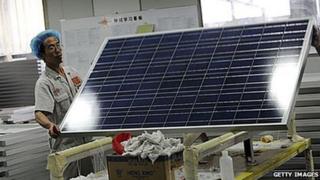 When sports fans recall last year's football World Cup and what the big name corporate backers were, they may cite international brands such as Coca-Cola or Sony, or even emerging market names such as Hyundai cars.
But it is rather unlikely that they would remember to associate a Chinese solar panel company with what is, with the Olympics, one of the two biggest sporting events in the world.
Yet Yingli Energy was one of Fifa's World Cup partners, alongside household names such as McDonald's, Castrol, and Budweiser, after signing up just four months before the event for an undisclosed fee.
In doing so, the company become Fifa's first renewable energy partner, and also its first Chinese World Cup sponsor.
'Why football?'
Yingli Energy must have been pleased with the exposure it received, because this June it signed up again to be a sponsor of the 2014 World Cup in Brazil.
In addition to its Fifa connection, the company is also renewable energy partner of the national football federation US Soccer, German football club team Bayern Munich, and NFL American Football team the New York Jets.
Darren Thompson is manager director of Yingli Green Energy's wholly-owned subsidiary in Europe, with 10 years of experience in the solar photovoltaic panel sector.
"It is pretty evident that we like football," he says, speaking at the Future Sponsorship conference in Amsterdam.
"But why football? Brand awareness comes out of these sponsorships, and differentiates us from our competitors.
"Football is one of the most popular global sports, it cuts across all corners of the world, and all socio-economic groups."
Energy source
Mr Thompson says such factors can enable Yingli in the future to reach developing countries such as India or countries in Africa and South America, where there may be intermittent energy supply problems that the Chinese firm's products could potentially solve.
And, although the company has traditionally been a business-to-business one, it is increasingly looking to the consumer market too.
"Customers are looking for energy solutions, so we need to put more into identifying our brand in the market place," says Mr Thompson.
"The sun is going to be here for four hundred million years, we hope. This is going to be an important part of the energy mix in the future."
Vertical integration
Yingli, which employs 11,000 people around the world, says it has solar modules in operation across five continents capable of producing more than two gigawatts, and 10 branch offices globally.
As part of its work in Africa, it provided solar panels for a Fifa scheme, based around its Football for Hope campaign, to provide soccer centres in 20 disadvantaged communities on the continent in the run-up to the 2010 World Cup.
"Four centres have been inaugurated, three are ongoing, and the rest are in the planning and execution stage," says Mr Thompson.
The photovoltaic systems (or PV - solar panels composed of a number of solar cells) it provides to the centres can be used to provide power for pitch floodlighting, laptops, light bulbs, desktop fans, ceiling fans and air conditioning.
On the production side, the firm says it reduces costs by producing all its own silicon, ingots, wafers and panels at its main factory in Baoding, two hours south-west of Beijing.
"That vertical integration gives us an advantage of cost leadership," says Mr Thompson. "We also focus very much on quality and our products are guaranteed for 25 years.
"How we do business, with a focus on innovation to drive down costs, is a critical element in our success.
"We are a rising brand, certainly since the 2010 World Cup our brand has been on the up."
During the tournament the company saw its share price rocket by 46%, and growing awareness of the company in China, helped by the growing media and online interest.
"This was a highly significant deal for Fifa," says Oliver Takahashi, head of marketing alliances and event management at Fifa.
Mr Takahashi has previously worked for Reebok, and for sports marketing group ISL. In addition, he has worked on the Japanese side of the staging of the 2002 World Cup, which was held jointly with South Korea.
"At the 2006 World Cup in Germany, Fifa first introduced a green concept, around things like fuel and transportation, and waste management and recycling.
"With [green issues] getting bigger and bigger, it was important for us to have a renewable energy company.
"We also wanted to have a partnership with a company from China, which is a key market, a massive market, and one where football is growing from the grassroots to the top."
He said signing Yingli was a key part of Fifa's corporate social responsibility programme too.
Eyeing Brazil
Mr Takahashi says that for its global World Cup partners, such as Yingli, he expects about 40% of the sponsors' programmes to be focused on South America during Brazil 2014.
Three years ahead of the event, Fifa has already opened its marketing office in Brazil, with a staff of two at present expanding up to 40 by the time of the event.
Meanwhile, after its four-month dash before the 2010 World Cup in South Africa, Yingli is hoping to make the most of its lead-in time to the next tournament.
It will be powering the Fifa and local organising committee headquarters.
"We are also approaching stadiums in Brazil to see about providing green solar panel electricity, not only for the World Cup but as a legacy for the future years," says Yingli's Mr Thompson.
"It is challenging in Brazil, but we have people on the ground working with construction companies, banks, and others to facilitate that."