Sport sponsorship aims to stay on top of its game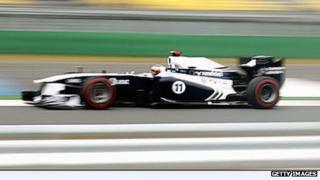 Just when the world of sports sponsorship felt it had got over the worst effects of the 2008 global financial crisis, along has came a new malaise hitting Western economies once again.
That has made it harder for businesses to convince their boards and shareholders that getting into partnership with a sports individual, team or event will bring any financial rewards.
Yet despite the current wisdom that it is a tough environment out there in the world of sports sponsorship, and in spite of coming in a year with no football World Cup or Olympic Games, there are some positive signs and opportunities.
Some big deals agreed this year include the signing by United Arab Emirates airline Etihad of a 10-year arrangement with Manchester City, reportedly valued at £400m ($625m), as well as another 10-year deal, a renewed package from 2012 between Pepsi and the National Football League in the US for a reputed $2.3bn (£1.5bn).
Meanwhile, organisers of the Rugby World Cup in New Zealand saw their tie-up with Youtube bring in about one million online viewers for the tournament through that web-based firm.
In addition, London 2012 Olympic Games organisers Locog passed the £1bn sponsorship mark this summer with its deal with shopping centre group Westfield.
"So, all is not bad in our industry," says Richard Moore, chairman of Future Sponsorship, a conference in Amsterdam.
"But we know that we have to fight for business."
Making an impression
The wider European sponsorship industry, which includes sport and non-sport deals, was valued at 23.33bn euros ($31.6bn; £20.2bn) for 2010.
The European Sponsorship Association, which came up with the figure, says that the ratio of sport to non-sport sponsorships in 2010 was 70:30, meaning that sport still is the most attractive proposition for businesses considering sponsorship.
Christine Uphoff is head of marketing for Germany at recruitment consultancy Randstad, a company that has a number of sports sponsorships.
She says that despite the economic downturn in much of Europe and the US, the Dutch-based international firm has no intention of cutting back on its backing of sport.
"Our sponsorships are long-term investments," she says. "We will not terminate anything because of an economic situation."
Randstad currently has sponsorships with the AT&T Williams Formula One team, a deal first signed in 2006, and also supports the Dutch National Olympic team as well as BMW Motorsport in the GT class racing series.
In addition it has a partnership with German Bundesliga football team Hamburg.
For Ms Uphoff, these deals not only promote the Randstad brand to the outside world but also to the company workforce.
"The global brand of Randstad fits perfectly with the [global] F1 race calendar," she says.
Through its sponsorship the company runs Driver Days, with the chance to meet drivers such as Rubens Barrichello, and even possibly to race with them.
For the firm, these sporting experiences that "money can't buy" are a key part of their sponsorship activation.
In addition, Randstad offers customers the chance to win a "dream job" during an F1 motor race weekend, and to join the AT&T Williams team behind the scenes and meet race engineers and car designers.
"We use these opportunities for both external and internal purposes," says Ms Uphoff.
"F1 is a great internal brand ambassador," she adds. "F1 is a microcosm of our world of work - with the focus on 'experts at work'."
'Nobody wins'
This globalisation of sporting icons means everything has to be perfect about the way they are utilised.
"Lionel Messi [the Argentina and Barcelona footballer] needs to sell shoes for us around the globe," says Max Van Den Doef, head of global sports marketing at Adidas.
"A very few global sports icons are becoming more and more important," he says.
"If one of them is injured, you might then for example struggle to sell shoes in China."
The German sportswear giant has about 3,500 sponsorships worldwide, and Mr Den Doef says these acquisitions always need to be "driving sales" in their particular markets, be it global, niche, or local.
"When we make long-term sponsorship, a team gets behind them to make sure there is a final return on the investment," he says.
Sometimes things can happen outside your control, he continues.
For example, Adidas is a partner of global football body Fifa, embroiled in a recent race row, and of NBA basketball, where there is a player lockout.
"We have a lot of desire for the games to be played. It is a difficult time for everybody and at the moment nobody wins," Mr Den Doef says.
Emerging markets
Fifa and the NBA are two organisations that have been striving to sell their product into emerging markets, with Fifa taking the World Cup to Brazil, Russia and Qatar, and the NBA having a major focus on promoting its basketball league in China. The 2016 Olympics will also be held in Brazil.
"Emerging markets are increasingly picking up major sporting events," observes Dan Jones, head of the sports business department at Deloitte.
"It gives them exposure on the international stage like no other, it boosts direct and indirect tourism - including business visitors - and it is a focus for national pride.
"Local sponsors can piggyback this, and it gives existing [international] sponsors a foothold too.
"The World Cup and Olympic games can almost be staged anywhere, for the governing bodies realise that the TV audience and sponsors will follow, and they can also bring in new sponsors too.
"It all means that there are great opportunities in emerging markets around sponsorship."