Japanese carmakers eye energy efficient future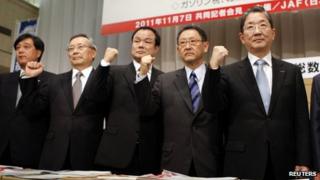 Japanese carmakers' ability to look forward to a brighter future following a disastrous year is perhaps the most impressive feature on display at the Tokyo motor show this week.
Their determination - showcased at the show in the form of a string of futuristic concept vehicles and recently in a joint press conference where industry leaders called for a reduction in automobile tax - is also the characteristic that should do the most to spook non-Japanese rivals.
The 11 March tsunami, earthquake and subsequent nuclear power crisis brought home the need to reduce the dependence on energy-hungry vehicles and appliances - whether on the road or in the home or factory.
So the Japanese carmakers are pushing ahead with even greater determination than in the past to deliver a less energy intensive future in which, in the words of Toyota, "people, cars and society are linked".
Affecting lives
In other words, the Japanese carmakers' thinking goes well beyond the automobile itself.
The future of cities is a central concept, with Toyota showcasing a so-called Smart Mobility Park where vehicles - generally powered by electric motors - are moving about autonomously with no human behind the wheel.
This is an area where General Motors and Volkswagen have made much headway in recent months and years, though Toyota's expertise in robotics will secure its role as a significant player in this development.
The future of the home is another area Japan's carmakers are looking at, with Nissan exploring how the batteries in electric cars can be used to store power that can be fed back into the house - for instance during power cuts or during periods when the car is not used.
Small city cars
In existing cities, autonomously driven cars remain an unlikely prospect for years to come, however, so Japan's carmakers are busy coming up with more immediate solutions to counter growing congestion and pollution.
Plenty of small city cars will go on show in Tokyo, including tiny electric cars such as Honda's Micro Commuter.
This car includes a peculiar electric motorcycle that can be used for final-miles driving and then its battery can be used to power electrical appliances in the office.
There is also Nissan's Pivo 3, a three-seater electric vehicle that has been gradually modified over the years, making it a likely production model.
Toyota is also showcasing an electric version of its tiny iQ model.
On the open road, where drivers cover greater distances in family-sized cars, the hydrogen-powered fuel cell vehicle is also quickly becoming a reality after decades of research and development.
Toyota, for instance, is showing off its FCV-R "reality and revolution" concept, which promises a 430 miles range and insists it should hit the road in just three or four years.
Until then, drivers wishing for improved efficiency, fuel economy and emissions reductions are being offered a broader range of petrol-electric or diesel-electric solutions.
One central part of the evolution in this area is the ability to pre-charge these cars' batteries by plugging them into power sockets.
Another is the way the many new ways batteries are used together with small, conventional combustion engines that pollute less.
This allows for more economical and cleaner driving in most circumstances, at times with the option of employing both battery and petrol engine jointly to deliver the occasional enthusiastic performance, or they offer electric mobility with additional range.
Example of such a cars at the Toyota show include Honda's AC-X family-sized car and Suzuki's Swift EV Hybrid, an electric car with a petrol powered range extender.
Conventional motoring
Japan's carmakers are not only eyeing the future, however, with plenty of focus still on the here-and-now. Toyota's GT-86 sports coupe is perhaps the most awaited production model on display at the Tokyo show.
The 200hp rear-wheel-drive car is based on the FT-86 concept first seen two years ago. It will be sold both by Toyota and Subaru, which will have its own version.
The car was first launched at a Formula 1 race track just days before the show, bringing evidence to two facts of life for the motor industry.
One, many drivers still prefer powerful petrol cars, in spite of the drive towards hi-tech, fuel efficient and cleaner motoring.
Two, in spite of this, invention continues and in time, many of the concepts revealed at motor shows will eventually make it into production.