UK public borrowing lower than expected in October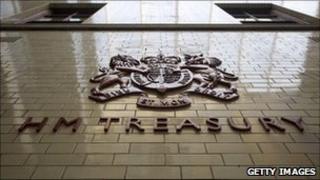 The UK's public sector net borrowing, excluding financial interventions, fell to £6.5bn in October.
Borrowing was down from £7.7bn a year earlier, according to the Office for National Statistics (ONS).
The October figure was slightly lower than expected, as growth in tax revenue outpaced spending.
The data comes a week before Chancellor of the Exchequer George Osborne presents his autumn budget statement to Parliament.
Borrowing between April and September was also revised down by £1.7bn, the ONS said.
Many economists had forecast that October's borrowing would be about £6.8bn.
The latest data takes total borrowing in the year since April to £68.3bn, which is still in sight of the government's target of £122bn for the full financial year.
Brian Hilliard, chief UK economist at Societe Generale, said: "I think the numbers are a little reassuring, but the fundamental problem of the slowdown in growth remains."
George Buckley, at Deutsche Bank, said the October figures were in line with his expectations, but added: "It could be that this is the calm before the storm, and I'm sure we'll find that out from the chancellor next week."
"It tends to take a while before the impact (of weaker growth) is felt."
The Treasury said October's figures show that Britain was making progress in cutting its deficit and remained a relative safe haven from the debt crisis raging in continental Europe.
"These figures demonstrate the government's progress in cutting the deficit so far this year, with borrowing now over £10bn lower in the year to October than in the same period last year," a Treasury spokesman said.
"The difficult decisions which have delivered this reduction in borrowing have made the UK a relative safe haven in the sovereign debt storm, but we are not immune to the turbulence in the eurozone and its impact on British businesses."
Next week, Mr Osborne is expected to announce a package of measures to help boost the economy.
At the CBI annual conference on Monday, Prime Minister David Cameron admitted that controlling Britain's debt was "proving harder than anyone envisaged".