Nationwide profits rise strongly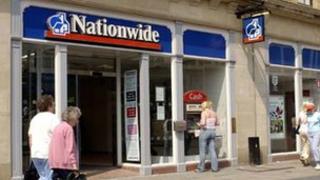 Britain's largest building society, Nationwide, has reported a rise in profits but said conditions will remain difficult until the eurozone crisis is resolved.
Underlying pre-tax profits in the six months to the end of September rose 17% compared with a year earlier, to £172m.
Nationwide said that it wrote off £144m in bad loans, which is 20% less than a year ago.
The firm saw a rise in repossessions, notably in Northern Ireland.
"Despite the uncertainties, I am confident that we can continue to invest in the business, deliver more products and services to more customers," said chief executive Graham Beale.
Nationwide, which specialises in mortgages and savings accounts, blamed low interest rates for posing challenges for savers whilst boosting the mortgage market.
"It is particularly pleasing to see a 48% increase in our gross mortgage lending of £8.9bn," said Mr Beale.
Meanwhile, the building society saw a three-and-a-half-fold jump in the rate of cash deposited in its savings accounts, making it the country's second largest savings provider.
The lender said that it does not expect interest rates to rise until 2013.
The building society lent 3% more to first-time buyers in the first half of the year than last year, to 10,000 separate borrowers.