China to make more yuan currency available for trade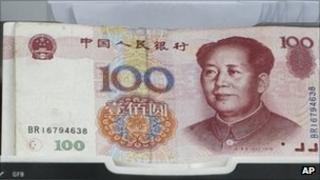 China and Hong Kong have agreed a deal that will give the territory more access to the Chinese currency.
The move signals a willingness in Beijing for greater international use of the yuan.
Some economists believe the Chinese yuan will be a future reserve currency, alongside the US dollar.
China currently exerts strong controls over the flow of money in and out of the country.
Under the new agreement, Hong Kong will be able to access 400bn yuan ($63bn; £40bn) from the Chinese central bank, up from 200bn yuan.
The money may be used to stabilise the yuan market in times of turmoil.
Chinese authorities are pushing for the yuan to become a more global currency to rival the dollar in international trade and finance.
The Hong Kong Monetary Authority (HKMA), the central bank in the former British colony, said that the move will also strengthen the role of Hong Kong as an international centre for Chinese currency trading.
"The renewal and expansion of the currency swap agreement between the HKMA and the [People's Bank of China] is crucial in helping us to provide liquidity, when necessary, and to maintain the stability of the offshore renminbi market," said Norman Chan, chief executive of the HKMA, referring to the yuan's official name.
Dariusz Kowalczyk, senior economist at Credit Agricole CIB, said the move boosted investors' confidence in the market for yuan trading in Hong Kong.
Dollar rival
The deal will last for three years and replaces an existing agreement signed in 2009.
China has been making its currency more widely available for international trade and investment.
Overseas investors can now buy and sell so called "dim sum bonds" - yuan-denominated debt issued by Chinese and multinational companies in Hong Kong.
And the yuan can now be used to settle invoices between Chinese firms and companies worldwide, avoiding the need to exchange in and out of dollars.
During the first nine months of this year, the HKMA said that yuan trade settlement conducted through banks in Hong Kong amounted to over 1.3 trillion yuan.