Luxury jeweller Chow Tai Fook in mega Hong Kong listing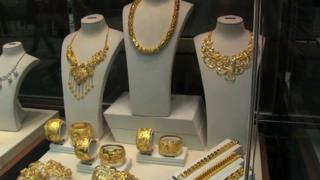 Chow Tai Fook, an 82-year-old Hong Kong jewellery chain, may be the biggest brand you have never heard of.
Its shops are a familiar presence on the streets of many Chinese cities, catering to the region's love of bling - be it spinach-coloured jade pendants, buttery gold wedding bracelets or dazzling diamond rings - but the name is unlikely to register far outside its home market.
The company's global anonymity looks set to disappear as the world's biggest jeweller prepares for what could be one of the world's biggest stock market flotations this year.
It is reportedly seeking to raise up to $3.5bn (£2.2bn; 2.5bn euro) via a Hong Kong initial public offering (IPO), which will likely take place early next month.
It is hoping that investors worldwide will be enticed by the opportunity to tap the growing appetite for luxury goods among China's newly rich.
"It is a very big brand in Hong Kong and it has really built up its network in China over the past few years and is increasingly popular there," said Ben Kwong, chief operating officer at securities firm KGI Asia.
Jewellery sales have been growing at 40% a year in China since 2008 and are a key part of the luxury goods market in China, which is expected to be worth $100bn (£64bn; 74bn euro) by 2020, according to brokerage group CLSA.
Rare example
Chow Tai Fook, which means good luck or good fortune in Cantonese, is a rare example of a successful, higher-end Chinese brand in a country where foreign names are often more trusted.
A study by CLSA of the most-searched for luxury brands on Chinese search engine Baidu in the first week of November placed Chow Tai Fook fifth after Louis Vuitton, Chanel, Gucci and Coach.
US and European jewellers Tiffany and Cartier ranked 11th and 12th.
There was only one other non-Western brand in the top 25 - another Hong Kong jewellery chain Chow Sang Sang.
"The thing that people don't necessarily understand is that Chow Tai Fook is a proper brand," says Aaron Fischer, an analyst at CLSA.
"It might not have quite the same prestige as Tiffany or Cartier, but it is a well-respected brand in China."
Other Chinese brands such as sportswear maker Li Ning have struggled to go upmarket, hitting what some experts have labelled a "bamboo ceiling".
However, Chow Tai Fook is distinguished by its roots in Hong Kong, which often acts a trendsetter for the Chinese market.
It has also benefited from the fact that the biggest US and European luxury brands have not traditionally focused on jewellery.
The company has 1,500 stores and it plans to increase this to 2,000 stores by 2016, mainly in China.
Another strength is its ability to reach the middle classes outside China's major cities.
A substantial number of its stores are in relatively poorer provinces such as Gansu, Guizhou and Xinjiang, where other luxury brands have yet to establish any presence.
Chinese tastes
Chow Tai Fook also caters specifically to Chinese tastes, both with its line of products and customer service.
There is less of the silver and white gold jewellery popular in Europe and the US, but plenty of the high-karat yellow gold used to make traditional Chinese wedding jewellery and vivid green jade pendants that many Chinese believe offer health benefits to the wearer.
Diamonds are also a big part of their business.
Last year, the company purchased the world's most expensive rough diamond for a record-breaking $35.3m (£23.2m; 26m euro).
A Chow Tai Fook store in Hong Kong's Tsim Sha Tsui shopping district was busy one recent weekday afternoon.
Customers, mainly from mainland China, tried on diamond rings and gold bracelets.
Staff were attentive, offering jasmine tea in paper cups and presenting name cards to each prospective customer.
Luxury IPOs
Chow Tai Fook is the latest luxury brand focused on the Chinese market to raise funds in Hong Kong.
Italian fashion house Prada raised $2.5bn in its flotation in June, and Coach is expected to go ahead with plans to list shares in Hong Kong by the end of the year.
London-based jeweller Graff Diamonds is also reported to be planning a Hong Kong listing next year as it seeks to expand in Asia.
They hope that a Hong Kong listing will raise their profile among Chinese consumers as well as be an efficient place to raise capital as markets struggle in austerity-ridden Europe and a slow-growing US.
Hong Kong has been the world's biggest IPO market for the past two years.
Global market volatility brought the market for new listings to a virtual halt over summer but they are expected to pick up again in the final months of this year.
A dazzling debut by Chow Tai Fook could provide the impetus Hong Kong needs to hold onto its IPO crown in 2011.