Hewlett-Packard fourth-quarter profits drop by 91%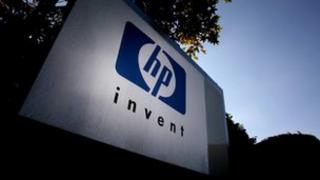 Computer firm Hewlett-Packard has unveiled a 91% fall in fourth-quarter profits after swallowing a $3.3bn (£2.1bn) charge to close down its WebOS business.
HP reported a profit of $200m on total sales of $32.1bn for the quarter ending 31 October.
This compares to a profit of $2.5bn on revenue of $33.3bn over the same period last year.
The figures are the first since new chief executive Meg Whitman took over.
Despite the slide in profits, revenue rose 1% to $32.3bn - analysts had predicted revenue of $32.05bn.
Ms Whitman took over the firm after her predecessor Leo Apotheker was fired in September.
He had embarked on a series of widely criticised moves to increase HP's focus on commercial computing hardware and software.
These included cancelling HP's plans to compete in the tablet and smartphone market with gadgets based on WebOS software that HP acquired when it bought Palm last year - resulting in the $3.3bn loss which was the biggest contributor to its steep profits fall.
He was also criticised for plans to spin off the firm's PC division - a decision Ms Whitman reversed on her arrival.
Mr Apotheker also bid £7.8bn for Autonomy, a software firm based in Cambridge, which analysts felt overvalued the firm by as much as £6bn.
However, Ms Whitman confirmed the deal would go ahead.
Michael Holt, an analyst for Morningstar said: "The current quarter is fine, a bit stronger than expected.
"The outlook is important with the new management in place. We're looking to see what will be different next year.
"They set a goal they could achieve, they wanted to put a number out there that they could hit.
"It's below what I expected but, assuming by the way they phrased it, it's the bottom of what they want to reach.
"Meg Whitman is bringing a focus to operating the business which has been lacking."