Brazilian wine looks to put fizz into the World Cup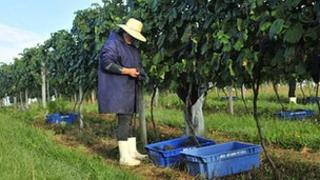 When most people around the world think of Brazil, wine is not something that springs to mind.
Even in the country itself, most Brazilians don't give fermented grape juice much thought.
It is very much a beer drinking nation, lager to be specific. And served as cold as possible to refresh in the hot weather.
Yet Brazil has had a small wine industry for hundreds of years, started by the first Portuguese settlers, and then continued by Italian immigrants.
For, despite the widespread perception that Brazil has a tropical climate too hot and humid for grapes, in the far south of the country, in the state of Rio Grande do Sul that borders Uruguay, the more temperate weather is ideal for planting vineyards.
Currently exporting only very small quantities, the Brazilian wine industry has high hopes that the country's staging of the 2014 World Cup can be used as a springboard to achieve ambitious overseas sales growth.
Speaking at the Soccerex Global Convention in Rio de Janeiro, the annual gathering of football business leaders, Ana Paula Kleinowski from Wines of Brasil, the national trade body, says the World Cup can help put Brazilian wines on the map.
"2014 is going to give Brazilian wine a tremendous promotional opportunity," she says. "We can use it to showcase the quality and range of our wines, and drive export growth.
"Brazilian wines are the only ones available at Soccerex, which we are very proud of, and come the World Cup we intend that as many visiting football supporters as possible can easily find and try them.
"And then continue to be able to buy them when they return home."
Good reviews
Brazil's wine growers may be targeting the world, but they have a long way to go to catch up with fellow South American wine producers Argentina and, especially, Chile.
Last year Brazil exported just $3.3m (£2.1m) worth of wine, compared with $1.6bn from Chile.
However, the only way is up for the Brazilians, and they have recently started targeting seven countries - the US, UK, Canada, Germany, Netherlands, Sweden and Poland. In addition to Hong Kong.
In the UK, you can now buy Brazilian wines from a number of smaller wine merchants, and Ms Kleinowski says feedback from some of the UK's best-known wine critics has been very positive.
"Jancis Robinson and Oz Clarke have both recently given Brazilian wines very good reviews, it is just a question of us getting more people to taste them.
"The quality is there, and the prices are reasonable."
Award winning
Talking of taste, is Brazilian wine really any good?
The simple answer is a resounding yes.
The best Brazilian wine is typically made from French grape varieties, and the country produces the full range of red, white, rose, sweet, and sparkling wines.
The latter is made in exactly the same way as champagne to produce the bubbles naturally.
The reds and whites taste similar to Chilean wines, and while the fizz might lack some of champagne's finesse, if someone gave you a bottle you'd be very happy.
Arley Firmino Pereira is winemaker at Miolo Wine Group, which was founded in Rio Grande do Sul in 1897 by an Italian family.
"We already sell our wines to one UK wine company, and it is going very well," he says.
"Our vineyards enjoy a very nice temperature, and very good soil. This is reflected in the quality of our wines, and our 2005 merlot won a global prize for the best merlot for less than $100 in a blind tasting test."
Mr Pereira adds that Brazil's winemakers also have a giant domestic market to conquer, where the average Brazilian currently drinks just two litres of wine per year.
That is equivalent to what thirsty wine fans in Europe will polish off in a weekend.
Price critical
Yet if the Brazilian wine industry wishes to make a substantial breakthrough in the UK and across continental Europe, it has to crack the big supermarkets.
Wine critic Robert Joseph says it may all come down to price.
"Basically in Britain most consumers will buy any wine if it is cheap," he says.
"So if Brazilian wine can get its prices right, and promote itself, it could be a success in the UK.
"In general they aren't making great wine yet in Brazil, but it is OK, it is do-able."
UK wine merchant Oddbins says that while it currently doesn't sell any Brazilian wine it would be keen to if the demand was there from its customers.
Emma Nichols, head of buying at Oddbins, says: "Oddbins could quite happily stock Brazilian wine, but it really depends on the quality.
"Our customers are always interested experiencing new and interesting wine. But we won't stock something simply for the novelty value - it has to taste fantastic."