Text alerts for bank overdraft threat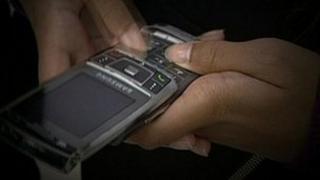 A text message alert system for those close to being overdrawn has been agreed by the UK banking industry.
From April, all the major High Street banks will offer current account customers the option of receiving a phone or e-mail warning if they are close to going into the red.
The service is one of many changes to consumer lending, including store card offers, agreed by providers.
They also plan a seven-day account switching service by September 2013.
The measures come at the end of a review by the government into consumer credit and personal insolvency.
However, ministers have ruled out imposing a cap on the interest rates charged on credit and store cards.
"The package of measures we have set out will encourage consumers to make better credit decisions and strengthen protection where necessary - particularly for the most vulnerable," said Consumer Minister Edward Davey.
Overdraft warning
The alert system for overdraft limits is already offered by some banks, but is set to be extended from April.
A year later bank customers will be given a buffer zone of £5 to £10 beyond their overdraft limits. They will not incur charges if they stray into the buffer zone for a short period.
And they will be warned at what time of day charges will be imposed, giving them time to top up their accounts to avoid having to pay a penalty.
However Mike O'Connor, chief executive of watchdog Consumer Focus, said these measures did not go far enough and raised concerns that changes were voluntary, rather than enforced.
"Receiving text alerts and buffer zones are welcome moves, but the reality is that this is tinkering around the edges when substantive reforms are needed," he said.
"Consumers will continue to be hit with high penalties which do not reflect the real costs that companies incur and which put some people into genuine hardship. Opaque and confusing fees also make it hard for people to compare accounts and can act as a barrier to switching.
"Unfortunately the history of the credit market and financial services shows that self-regulation rarely works. Government must maintain the prospect of formal regulation if this approach is to have a chance of working."
Switch in a week
Relatively few bank customers switch their current account, and the government, the regulator and consumer groups have all called for this to be made easier to encourage competition in the market.
In September, the Independent Commission on Banking - the Vickers' report - said changes should be made across the industry.
It wanted the switching of current accounts to be a smooth process, by redirecting all payments in and out of an old account into a new one, within seven working days.
Now, the government and the industry have agreed to put these proposals in place by September 2013.
Meanwhile, retailers have agreed to stop tempting customers into expensive credit by offering discounts on purchases at the time they take out a store card.
Instead there will be a timeframe set, and there will also be a ban on direct commission for sales staff.