Royal Mail reports profits rise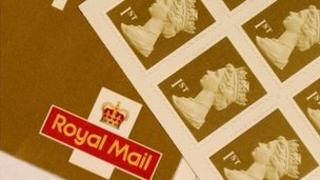 Royal Mail has reported rising profits, while stressing that its core business of delivering letters is loss-making.
Pre-tax profits for the six months to 25 September came in at £187m, up from £50m in the same period last year.
Royal Mail made an exceptional gain of £190m from property sales, much of which came from the sale of its Rathbone Place depot in London.
It has cut the number of people it employs in the UK by 5,000 in the past 12 months.
The cuts have taken its workforce to 163,000, which is about 50,000 fewer than were employed 10 years ago.
The past year's reductions have been partly due to the use of new sorting machines.
Royal Mail's statement predicted more "painful changes for our people, as modernisation involves changes to working practices to improve efficiency".
Royal Mail was keen to highlight its operating profit, which includes modernisation costs but excludes other exceptional items, and which came in at £67m, up from £22m in the same period last year.
That figure included an operating loss of £41m from the letters and parcels division, which was an improvement on last year's loss of £55m.
The business is handling 6% fewer letters than at the same time last year and predicts "annual declines for the foreseeable future". Chief executive Moya Greene told BBC News that the 6% decline had been faster than she had originally forecast.
The losses came despite the record increase in stamp prices in April, when a first call stamp went up from 41 pence to 46p.
The loss at its deliveries business was more than offset by profits at its parcels service GLS, which made £58m, and the Post Office, which made £55m.
Royal Mail is relying on several changes to secure its future profitability.
"Royal Mail assumes that the government will relieve the group of the bulk of its pension deficit, subject to EU state aid clearance," the statement said, adding that the deficit had grown from £4.5bn in March to £4.6bn in September.
The company is also hoping that the European Commission will allow the government to pay off some of its debt.
Finally, Royal Mail is in talks with its new regulator Ofcom about changing the way it is regulated, which may include allowing it to set stamp prices.