Thailand economy grows by disappointing 3.5%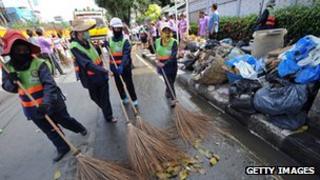 Thailand's economy grew by 3.5% in the summer months of 2011, less than the 4.5% rate economists were expecting.
For the full year, the economy is now expected to grow by just 1.5%, compared to 2010, said the National Economic and Social Development Board (NESDB).
Severe floods have swept through much of Thailand since July, killing at least 600 people and causing many businesses to close.
Prior to the flooding, the NESDB had forecast growth of up to 4% for 2011.
The flooding has affected the manufacturing, agriculture and tourism industries.
The farming sector shrank by 0.9% during the summer months, compared to growth of 6.7% in the preceding quarter.
Consumption was also hit by the rising waters, with households becoming more reluctant to spend.
The 3.5% expansion registered in the July to September months, compared to the same period in 2010.
Economists had expected growth of 4.5% during those three months, even after taking account of the effects of the flooding.