No deal between Qantas and unions as talks break down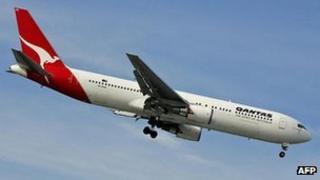 The Australian airline Qantas has failed to reach a deal with pilots and ground staff in an ongoing industrial dispute, meaning it will now go to forced arbitration.
Qantas and two unions were ordered by Fair Work Australia, the industrial relations umpire, to reach an agreement.
In October, Qantas grounded its entire fleet to force an end to the strikes.
Workers are angry about Qantas' plans to restructure its business in Asia.
'No agreement'
They are demanding guarantees on working conditions, wages and job security.
The negotiations with the International Pilots Association (AIPA) have been ongoing for 15 months, while the talks with the Transport Workers Union (TWU) have spanned six months, according to Qantas.
"We did make some progress but we simply cannot agree to all the unions' demands," said Alan Joyce in a press release, referring to the dispute with the TWU.
The company also said that there could be no industrial action during the arbitration period, which means there will be less disruption for flyers.
Service problems
The airline grounded most of its domestic and international fleet on 29 October, a move that affected around 80,000 passengers worldwide.
It said it had wanted to end more than six months of disruption to services by three unions that are arguing for higher wages and job security.
Fair Work ordered Qantas to resume service after the Australian government stepped in.
That's when the two sides were given the 21 November deadline to reach an agreement.