Toyota restores Japan output to "near-normal levels"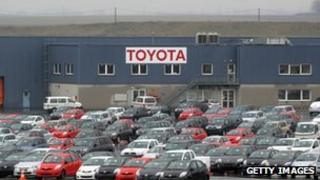 Toyota Motor said it had restored vehicle output in Japan to "near-normal levels" on Monday, after severe flooding in Thailand disrupted supply chains.
Partial production at three Toyota factories in Thailand itself has also resumed.
Last month the carmaker was forced to cut production around the world.
The flooding in Thailand, the worst the country has seen in decades, has resulted in more than 600 deaths.
It has also forced many businesses to shut down.
Factory closures and other disruptions resulting from weeks of flooding have contributed to an 18.5% fall in Toyota's July to September profits.
The company has withdrawn its profit and vehicles sales forecasts due to continued uncertainty.
The output cancellations have come at a time when Toyota was starting to ramp up production to make up for lost output after the earthquake and tsunami in Japan in March.
Spokesman Dion Corbett estimates that 150,000 units of production have been lost globally since October due to the floods.