Japan's exports decline for first time in three months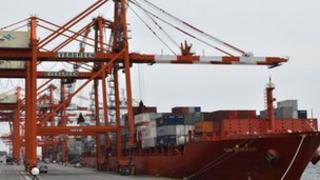 Japan's exports have fallen for the first time in three months, reinforcing worries that the strong yen and global debt crisis are affecting the economy.
Shipments dropped 3.7% in October from a year earlier, said the Ministry of Finance.
This pushed the balance of trade into a deficit, as imports jumped on high fuel costs.
The Bank of Japan warned last week that the debt crisis in Europe was stifling demand and hurting Japanese exporters.
Hurting recovery
In September, the Japanese economy was looking like it was back on track following the devastating 11 March earthquake and tsunami.
Exports were up 2.3% in that month compared to last year, as carmakers' production levels were back up to pre-quake levels.
However today's figures have renewed concerns over the recovery. The drop in exports was steeper than expected, with analysts predicting a fall of 0.3%.
Analysts said that the fall in demand from countries facing their own economic crises was severe.
"Exports will likely continue to fall for the next few months as the global economy is expected to continue to have an adverse impact," said Takeshi Minami from Norinchukin Research Institute.
Safe yen
The other adverse effect of the European debt crisis has been a move by investors to buy the yen, generally considered a safe investment.
This has driven up the value of the currency, making Japanese good more expensive overseas. This, in turn, has hurt major exporters.
The strong yen is seen as a big threat to Japan's economy, and one the government is taking steps to combat.
Japan has intervened in foreign exchange markets three times this year, most recently on 31 October.
Carmakers are often the most affected by the strength of the yen, as they are major exporters.
Companies such as Toyota, Honda and Pioneer have also suffered recent supply chain disruptions due to the flooding in Thailand.