'Sharp fall' in business confidence, says CBI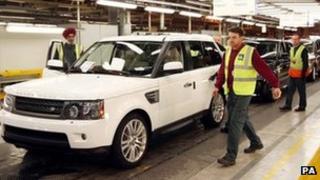 Firms are reviewing investment plans after a "sharp fall" in confidence among senior business leaders, according to research by the CBI.
The CBI interviewed 122 business people and found 70% were less optimistic about the future than in August.
Two out of five were freezing recruitment or laying off staff.
The Treasury said the government deficit reduction plan had "placed the UK ahead of the curve and helped to protect businesses".
However, shadow business secretary Chuka Umunna said the findings were "deeply concerning".
CBI director general John Cridland, speaking on the eve of the organisation's conference, said it had been a year of "disappointed expectations", with the eurozone crisis adding to the problems of British businesses.
While Mr Cridland supported the coalition government's determination to cut the deficit, he urged the Chancellor George Osborne to unveil a "Plan A Plus" in his autumn statement later this month.
"We're at a critical tipping point, with the eurozone crisis reaching a crescendo and UK growth forecasts being revised down," said Mr Cridland.
"The chancellor needs to use his autumn statement to boost business confidence with game-changing new ideas," he added.
The CBI leader said the government should bring forward certain infrastructure projects, which would "leverage" billions of pounds of private sector investment.
'Heavy lifting'
"The chancellor has to announce plans for growth and the government needs to do more of the heavy lifting which is needed. There is no support for additional public spending because we think that would reduce growth rather than enhance it," he added.
Businesses gave their reasons for pessimism as the eurozone crisis, weak consumer demand, slow growth and instability in the financial markets.
But four out of five business leaders supported the government's deficit reduction plans.
Ian McCafferty, the CBI's chief economic adviser, said uncertainty about the eurozone and other factors had affected confidence and he added: "Firms are holding off taking on new staff."
A Treasury spokesman said: "The government is using every lever at its disposal to protect the UK economy and make sure that it remains a relative safe haven in the face of international instability and uncertainty in the euro zone.
"We are also tackling structural issues that will create the right conditions in the long term needed for strong and sustainable growth.
"Underpinning this is the government's deficit reduction plan, which has placed the UK ahead of the curve and helped to protect businesses and families by keeping interest rates low.
Other countries have not taken these difficult decisions and are now feeling the effect of weakened market confidence," he added.
Mr Umunna said: "Labour's five point plan for jobs and growth would get the economy moving again and boost business confidence now by bringing forward infrastructure projects, temporarily reversing the government's VAT hike to help spur the retail sector and providing a tax break for small firms taking on extra workers."