Suzuki seeks mediation to end alliance with Volkswagen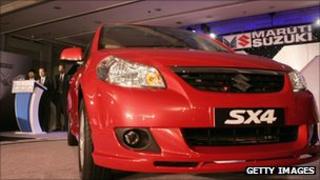 Suzuki Motor has announced it will seek arbitration if German carmaker Volkswagen does not sell its stake in the Japanese company back to it.
VW says Suzuki has "no legal foundation" to force it to sell its shares.
The German firm bought a 19.9% stake in an agreement with Suzuki in 2009, but the relationship has soured since then.
Suzuki declined to provide details on how the arbitration would work saying the process was confidential.
"Because there is only one level of jurisdiction, arbitration is typically favoured since rulings are handed down often much faster than a national court and are just as binding," said Timo Holzborn, a corporate lawyer at Munich firm Heisse.
Suzuki issued a notice to Volkswagen on Friday saying it had breached the terms of their 2009 agreement.
"Volkswagen AG did not allow Suzuki access to Volkswagen AG's core technology and it also became clear that there were differences between Suzuki and Volkswagen in the understanding of 'independence'," Suzuki said in a statement.
"Once the paperwork is filed and the process begins, we are prepared for it to take potentially as long as one and a half to two years to come to completion," said chief executive Yasuhito Harayama in Tokyo.