Mortgage lending falls back again, lenders say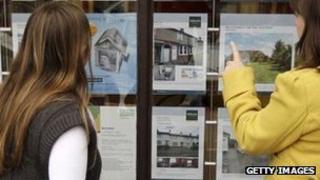 Total mortgage lending fell back in October, the Council of Mortgage Lenders (CML) says.
Banks and building societies lent a further £13.1bn, which was 4% down from September, though still 16% up on the same month last year.
The CML said the market was still subdued, with lending boosted by people remortgaging rather than moving house.
Prices have been flat in the past year, with sales still at half their pre-recession levels.
"The immediate direction of house purchase activity is a little unclear, although the story for remortgages, with strong year-on-year increases in activity this year, is for the time being more straightforward," said CML chief economist Bob Pannell.
Richard Sexton of chartered surveyors e.surv took a much more dismal view and said banks were in no position to increase their lending.
"Insipid economic growth, and restricted supply of credit are sapping the life from the market and forcing banks to target wealthier borrowers and professional buy-to-let investors," he said.
"A meagre one in every 100 loans were to borrowers with a deposit of 10% or under, compared to 13 in every 100 in 2007.
"Unless the economy gets moving, and the crisis wreaking havoc in the eurozone dissipates, there is a very real chance the first time buyer market will enter a state of near paralysis," Mr Sexton added.