Boeing bags biggest order with $21.7bn Lion Air deal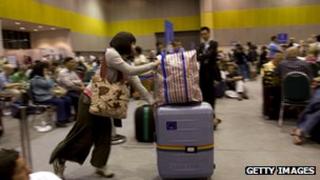 Boeing has bagged its biggest commercial order after signing a deal worth $21.7bn (£14bn) with Indonesian airline Lion Air.
Indonesia's largest private carrier has placed an order for 230 short-haul 737 planes.
The deal includes an option for another 150 aircraft worth an estimated $14bn.
It comes just days after Boeing announced a deal to sell 50 of its 777 jets to Emirates Airlines for a list price of $18bn.
The US planemaker said the Lion Air order, when finalised, would be its largest ever "by both dollar volume and total number of airplanes".
Growing demand
The robust growth of Asian economies in recent years has seen the rise of a more affluent middle class in the region.
With higher disposable incomes, consumers have been spending more and there has been an increased demand for air travel in the region.
Analysts said the huge order by Lion Air was an indication that the region will be the main driver of growth in the coming years.
"Something has changed in the past 20 years," said Randy Tinseth, vice president of marketing for Boeing commercial airplanes.
"In 1990, 72% of demand was from Europe and the Americas. Now it is closer to 50% [and] in 2030 it will be only 40%," he added.
Boeing has also signed a pact to sell eight 777-300ER aircraft to Singapore Airlines in a deal worth $2.4bn.
General Electric Co has entered an agreement with Indonesia's Garuda Airlines to supply 50 engines for $1.3bn.
Oil factor
The bulk of the order by Lion Air is for an improved version of Boeing's 737 jet called the 737MAX.
The revamped model is an attempt by Boeing to compete with similar fuel-efficient models being marketed by rival Airbus.
Analysts said that volatility in global fuel prices is likely to see an increased demand for such planes, as carriers look to minimise the impact of fuel price gyrations on their profits.
However, they warned that Boeing will have to ensure that it is able to meet the delivery deadlines in order to cash in on the growing demand.
"[Boeing has] a backlog that most people wouldn't know what to do with," said Alex Hamilton of brokerage firm EarlyBirdCapital.
"The faster they get [planes] out, the less risk there is to the backlog being cancelled and the faster they convert those orders into cash."