CBI chief John Cridland on a mission to explain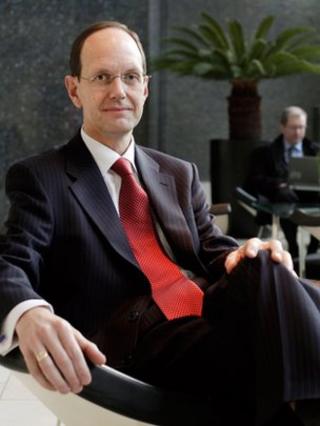 "My predecessor decided to step down just at the right time."
John Cridland is just kidding, but it underlines an eventful 10 months since he took the helm at the UK's largest business group, the CBI.
The eurozone's implosion, the contraction of the UK economy and even trenchant criticism of the CBI itself ensure that it's never a dull day at CBI HQ.
It should all make for a lively annual conference on Monday of an organisation that styles itself as the "voice of business".
There will be the usual mix of talking up UK Plc and calls for more business-friendly government policies.
But Mr Cridland also wants it to be "a bit of a celebration of the best of British business".
He's worried about too much negativity. Yes, the economy "is in a bad place". And yes, "confidence is evaporating".
But can we just acknowledge, please, that also "there is a great deal of good stuff going on".
He reels off list of business success stories, but a particular favourite at the moment is the decision by Jaguar Land Rover, owned by India's Tata, to build an engine factory near Wolverhampton. "Fabulous news," he says.
Yet, despite the upbeat tone, the CBI has not escaped criticism that it is itself too gloomy. Howard Wheeldon, senior strategist at BGC Partners, wants "less moaning; more ideas".
And in August, Jesse Norman, Conservative MP and member of the Treasury Select Committee, wrote a scathing attack which began: "What is the point of the CBI?"
The organisation had, Mr Norman said in a newspaper article, "failed taxpayers on every issue that matters".
He called the CBI's record on bank reform and executive pay "lamentable", adding that it "seems to prefer the interests of a few big companies" rather than the UK's army of smaller firms.
Tough stuff. "I remember that well," Mr Cridland says. "Jesse Norman has never spoken to me. I'd love to have a conversation with him. He's never said to me what he thinks I've got wrong."
'Champion'
Mr Cridland seems particularly irked by suggestions the CBI is a big business organisation. "I speak up for the small business... I'm not in the pocket of any of the people in my membership," he says.
And as for medium-sized businesses, they are "Britain's forgotten army. And I want the CBI to be their champion".
One of his missions is to bring into the CBI the "guys in open-neck shirts" who run the UK's creative industries. "Ten years ago they would not have thought the CBI was interested in them."
He is especially pleased to have recently recruited to the CBI Aardman Animations, the film company behind Wallace and Gromit.
Nor does he have any problems reconciling the interests of the CBI's biggest members will those of smaller firms.
"The CBI speaks for the free market... The CBI is a broad church. That's our strength. We speak for the British economy," he says.
On issues like red tape, regulation, tax, or copyright, firms big and small are rarely in disagreement.
He said: "I've been here 29 years. There are very few issues where the CBI has been divided. The nearest we got was the euro (and whether to join). There were people who felt really strongly at both ends of the spectrum."
So, where did he stand on the great euro debate? "I wasn't running the organisation [then]. I was much more junior."
Yes, but did he think Britain should have joined? "My view was it was ultimately a political decision. I think 10 years on the penny has dropped: it was a political project.
"I'm interested in investment, exports, and jobs. I'm not here to pontificate about politics," he says.
'Toxic'
Mr Cridland thinks the Jesse Norman article may have been prompted by the CBI's opposition to any immediate reform of the banking sector proposed in the Vickers report.
The CBI, along with the big banks, argued that the reforms would undermine confidence just as Europe's economy was taking a turn for the worse.
"I haven't got a problem with the Vickers report; just that in the middle of a crisis in the eurozone don't pile on all the extra costs and structural changes in 2012."
Mr Cridland accepts that the image of business, especially of the City, has become "a bit toxic".
He wants to win back the hearts and minds of people who have become disillusioned with business - even those camping outside St Paul's Cathedral.
This will be achieved by convincing them that "creating wealth benefits society as a whole, and creating jobs benefits society as a whole".
Indeed, he goes so far as to say that in these troubled times it is "the CBI's job is to offer the government and the public a sense of hope".
It is difficult to imagine some former director generals speaking in such terms.
For them, macroeconomics and power politics were at the forefront. In contrast, Mr Cridland sees himself thus: "I'm into the practical; doing deals, making a difference. I don't mind having some oil on my hands.
"I think that sometimes we can over-analyse things. And if you over-analyse, you paralyse. It's like a rabbit in the headlights. And we are in that position at the moment as a country."
'Cutting edge'
Mr Cridland joined the CBI in 1982 as a policy adviser, an era when the annual conference was a three- or four-day televised event, and a platform for debating the great industrial and trade union battles of the era.
The economic landscape has changed radically, although Mr Cridland is among the chorus of voices arguing for an urgent rebalancing of the economy.
"You can't turn to the clock back to a nation of shipbuilders and coal mines. That's gone. But we can be cutting edge." By which he means supporting the creative sector, leading-edge technologies, and industries that add value.
Some industries were destined to fold. What annoys him, though, is when companies shut unnecessarily.
The day before Mr Cridland spoke to the BBC, Rio Tinto Alcan announced the closure of a smelting plant in Northumberland, with the loss of 500 jobs.
It was "needless", he feels. Alcan blamed rising energy costs because of new carbon legislation - something Mr Cridland understands because it is an issue of urgent concern for his CBI members, he said.
"I want new renewable energy and know we have to pay for it. But I don't want that at the expense of aluminium smelters, steel mills, chemical plants, and cement factories going out of business."
Another issue on his agenda is youth unemployment. He recalls asking the Treasury for £150m to help tackle the "timebomb" of young jobless.
"I was told: 'We ain't got any money.' I said: 'That's a bit funny, because you found £200m to reintroduce weekly bin collections.' I don't know who was asking for weekly bin collections, but it's not on my list."
Despite points of disagreement with the coalition government, the CBI remains supportive of the broader strategy because it agrees with Chancellor George Osborne's deficit reduction plan.
Europe's debt crisis is the most serious impediment to growth, Mr Cridland says, and without a resolution much of what he has just said is irrelevant.
The economy is in the "last chance saloon". Mr Cridland may be an optimist at heart, but he also considers himself a realist.