BA and Virgin face fine by Nigeria's aviation authority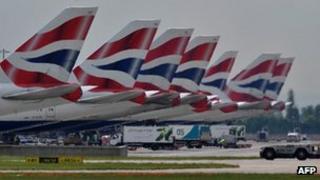 Nigeria's civil aviation authority has fined British Airways and Virgin Atlantic in a row over ticket prices.
Nigeria's authorities have argued that BA and Virgin Atlantic charged more for routes to Nigeria than to neighbouring Ghana, and that they colluded over fares.
Harold Demuren, head of the authority said that BA would be fined $135m (£85m) and Virgin Atlantic fined $100m.
Both BA and Virgin Atlantic have denied the allegations.
Heathrow row
In a statement, Nigeria's aviation authority said: "BA and VAA did in fact collude, and in furtherance of that collusion periodically increased (passenger fuel surcharges), including against Nigerians."
However, British Airways told the BBC: "We reject the allegations made by the Nigerian Civil Aviation Authority and we are vigorously defending our position."
In a statement, Virgin Atlantic said: "We have fully assisted the NCAA with its enquiry and we do not believe we have breached Nigerian law. We will be robustly defending any suggestion to the contrary."
The fines come in the wake of a dispute over landing slots at Heathrow.
BA and Virgin share 21 return flights a week from Britain to Nigeria according to an agreement between the two countries called the Bilateral Air Services Agreement (BASA).
Nigerian airlines are also allowed 21 flights as part of the agreement, but Arik Air, the country's only carrier, has had its landing slots at Heathrow cut recently.
Two weeks ago the Nigerian Aviation Ministry threatened to cut BA flights to the country in retaliation.
The situation was apparently resolved in last-minute talks.
"BA flights will continue seven times a week to Lagos until the end of December," said Joel Obi, a Nigerian aviation ministry press officer on Wednesday.