What will Burma's economic future look like?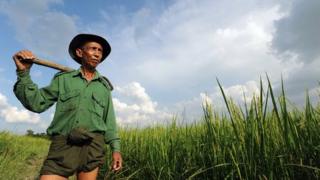 As Burma's political leaders win the symbolic support of a fast-growing region, the fortunes of the population in the resource-rich country are not looking as bright.
On Thursday, the Association of South East Asian Nations (Asean) endorsed Burma to take on the leadership of the 10-member regional bloc in 2014, seen as a milestone in the government's quest for recognition.
Since the military handed over power to a nominal civilian government, there has been plenty of reformist rhetoric and some action - including calls for peace with ethnic minority groups, easing of media controls and the release of some political prisoners.
But analysts say sanctions imposed by the European Union and the US on the country are not going away anytime soon. So what does this mean for the economy?
'Geographic backdoor'
Burma has massive economic potential. It has one of the largest natural gas reserves in the world, as well as other minerals.
It is also rich in timber, agricultural products and precious stones, exporting mainly to Thailand, India and China.
The country is geographically well positioned to be a gateway for trade.
Burma sits between India and China, with ports on the Indian Ocean and Andaman Sea. If developed with more rail and pipeline projects, Burma could link Asean with India and the rest of South Asia.
"Burma is basically the backdoor to the Chinese and Indian markets and economies," says Maung Zarni, co-ordinator for Burma and Myanmar Research Initiative at the London School of Economics.
"For this reason the unconditional embrace of the dictatorship by Asean and other nations is a given. It's commercially driven," Mr Zarni says.
Chinese influence
It's also driven by a desire for Asean to limit China's influence in the strategically important country.
China and Burma have previously maintained a strong bilateral relationship, one that emerged from a shared communist history.
Today, China is the biggest foreign investor in Burma with pledged investment reaching above $14bn in the financial year ending in March 2011, according to official data.
Chinese money is backing multi-billion dollar pipeline projects, including one that will carry oil across Burma to link Chinese refineries. And a separate project that will carry offshore natural gas to China from Burma.
Recently, however, Burma suspended the Chinese-funded $3.6bn Myitsone dam on the Irawaddy river in the north after public opposition.
Analysts say Burma is eager to be less dependent on China, and attract foreign investment from South East Asian countries such as Singapore, Thailand and Indonesia.
"There has been competition between China and Asean over Burma, they both want to have a stronghold in the country," says Pavin Chachavalpongpun from the Institute of South East Asian studies in Singapore.
A free-trade agreement between Asean countries goes into effect in 2015, a move that Asean is hoping will allow the bloc to act as a counterweight to China in the region.
Policy changes
Domestically however, the economy is plagued by inefficient government policies, corruption and chronic rural poverty.
Industries such as tourism have not been developed to their full potential and many analysts say that Burma's economic picture won't improve until it becomes more welcoming to businesses.
"You have a regime that is obsessed with its own security above economic development," says Mr Zarni.
"There are no responsive, transparent and accountable business procedures."
This makes businesses feel vulnerable and has kept them mostly out, except for a few "irresistible areas such as oil and gas," he adds.
Most of the foreign investment into Burma is, in fact, in oil and gas exploration, with French and US energy companies having a presence there despite sanctions imposed by the US and European Union governments.
Another barrier to foreign investment is the country's multiple exchange rates. Burma has an official exchange rate and an unofficial, black market, rate.
At the central bank's request, a team from the International Monetary Fund recently went to Burma to try and unify the exchange rates as well as lift restrictions on international payments and transfers.
But the problems are not just procedural, they are political, and they will need political will to be resolved.
Although small steps have been taken, there is a long road ahead for Burma to start capitalising on its vast potential, and for the benefits to start trickling down to the poorest of the population.