US panel says yuan is a threat to dollar's dominance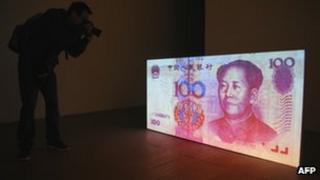 The yuan could threaten the US dollar's dominance as an international reserve currency an independent committee set up by the US congress has warned.
The warning comes as the Chinese authorities have been pushing for a more international role for their currency.
The committee said the Chinese currency could mount a challenge within the next five to 10 years.
China's growth has seen an increased demand for yuan-denominated assets.
"Chinese financial authorities are laying the groundwork for these ambitions via a series of bilateral arrangements with foreign companies and financial centres," the US-China Economic and Security Review Commission said in its report.
"While dollar-denominated financial markets retain a substantial advantage over their RMB-denominated counterparts in terms of new issuances, the RMB markets have made remarkable progress in less than one year," it added.
Policy debate
The report also touched upon China's currency policy and the valuation of the yuan.
The committee said that Beijing continued to keep a tight control over its currency's value in a bid to help its exporters.
Though China has allowed the yuan to appreciate against the US dollar in past year, the panel said the rise was not enough and the Chinese currency remained highly undervalued.
"As a result, US exports to China remain subject to a de facto tariff, Chinese exports to the United States remain artificially discounted, and Chinese household consumption remains suppressed," the panel said.
The committee warned that while China was currently a hub for low-cost manufacturing, it was making rapid progress in the fields of high-tech research and development and production.
It said that if the yuan's value continued to be controlled by China, then high-tech businesses in the US may also suffer.
At the same time, it said the US' large trade deficit with China was resulting in huge job losses in the US.