GMB members vote to join pension strike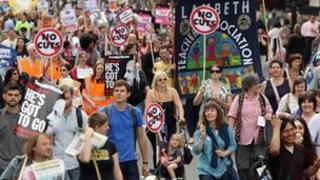 One of the UK's largest unions - the GMB - has voted to join a national strike on 30 November against public sector pension changes.
The general union said that members had voted four-to-one in favour of a strike. The turnout was 33%, the union said.
However, GMB national secretary Brian Strutton said there was still time for the government to make an offer.
The result comes just after members of UCATT said they would also strike.
The building workers union said that of its 15,231 members balloted, 3,417 voted to strike and 692 voted against: an 83% majority on a 27% turnout.
Strike day
The TUC's day of action now has the support of 15 trade unions, with more still to declare their ballot results.
The Unite union was expected to announce its ballot result later on Wednesday, with the NASUWT doing the same on Thursday.
The unions object to government plans to make their members pay more and work longer to earn their pensions.
The GMB represents a number of different groups of workers employed in local government, the NHS and the civil service across England, Wales, Scotland and Northern Ireland.
Mr Strutton said: "It is now clear that millions of workers will be protesting on 30 November at the government's attack on jobs and pensions.
"The government have already accepted that the original proposals were unfair and wrong. It is not too late for the government to pull back from this confrontation and scrap this attack on pensions."
'Unacceptable'
Mr Strutton said the turnout was 33% owing in part to a large proportion of lower-paid members having not signed up to the pension scheme.
He added that the four-to-one vote in favour was "very clear" and he hoped that the government would take note of it.
Previously, Cabinet Office minister Francis Maude has said that the government would accept "token action" from the unions on 30 November.
Following the GMB decision, Bob Neill, a Local Government and Communities minister, said: "People are collecting their pension for longer, making reforms that reduce the taxpayer burden essential.
"The government's generous new offer to the public sector is a very big move that is beyond what most private employees could hope for.
"I urge trade unions to respond in a more reasonable manner. The public will judge any widespread or disruptive union action on 30 November as unnecessary and unacceptable, particularly given the low ballot turnouts."