US consumer prices dip on cheaper fuel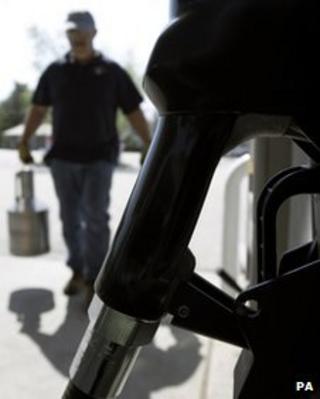 US consumer prices fell by 0.1% in October, the first fall since June, helped by falling petrol prices.
Fuel prices fell 3.1% in October, the US Labor Department said. However, fuel price movements remain volatile, having risen 2.9% the month before.
The latest figures mean consumer prices saw an annual rise of 3.5%, down from September's figure of 3.9%.
Stripping out food and petrol costs, so-called core prices increased by 0.1% - the same as the previous month.
The prices paid for new cars, air fares and hotels all declined but the cost of rent went up by 0.4% in October.
Factory boost
Lower inflation was not the only good news on the US economic horizon. Industrial production rose in October at the fastest rate in three months.
The Federal Reserve says output rose 0.7% last month, an improvement on September, when it fell 0.1%.
The headline figure was boosted by mining production rising by 2.3% last month and business equipment manufacturing up 1%.
It was also boosted by durable consumer goods production, which increased 2.1%, mostly because of a jump in output in the car industry.
Some analysts think the economy could be recovering.
"The consistent theme in the recent flow of economic data has been one of accelerating momentum in economic activity," said Millan Mulraine, a senior macro strategist at TD Securities in New York.
However, concern about the impact of the eurozone debt crisis on the US economy continues.