Qatar flexes its muscle in Airbus deal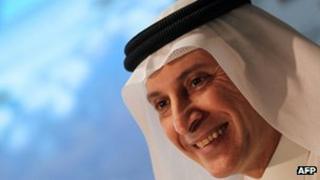 Speaking quietly into his ageing Nokia mobile phone, Akbar al-Baker, is busy finalising a major deal.
The flamboyant chief executive of Qatar Airways has just been in a meeting with John Leahy, the chief operating officer of the European planemaker Airbus, and his mood is bullish.
Mr Baker is ready to spend a whopping $6.4bn (£4bn) on new Airbus planes as part of a relentless and ambitious growth plan of a kind that has left many of its rivals shaking their heads.
"European carriers do not have the stomach to expand like us," Mr Baker says.
"But every downturn, every recession, gives people an opportunity to take advantage of the situation and this is exactly what Qatar is doing."
Bargaining position
Leaning back in the wide, reclining first class seat in a lavishly kitted out Boeing 777, Mr Baker is clearly in a comfortable position.
"Oh, somebody's turned on the massage," he grins broadly.
As far as Mr Baker is concerned, the current business environment is equally comfortable, not least because many rival airlines in Europe and the US are struggling to raise finance at a time when passenger traffic is down.
"In a way, it is good," he says, "as it reduces capacity [in the industry]."
It also improves Mr Baker's bargaining position.
Outside on the hot tarmac at the Dubai Airshow, expectations are high ahead of an anticipated announcement of the Airbus deal.
But true to form, Mr Baker is ready to flex his negotiating muscle and add a bit of drama to the show.
Apparently disgruntled about not being offered the first deliveries of Airbus's new A320neo planes, which will be up to 15% more fuel-efficient than its current A320 models, he walks out of afternoon talks, declaring that "Airbus is still learning how to make aeroplanes".
"We have cancelled the announcement," he says. "There is an impasse. If this is resolved, fine. If not, bye-bye."
Lawyers blamed
It turns out it is a temporary setback.
As the afternoon moves towards evening and the temperature begins to drop, so the tempers cool down too.
Soon the deal is back on as Mr Baker announces the purchase of five Airbus A380 aircraft that will double its fleet of the giant planes, as well as 50 orders for the A320neo, with an option for a further 30.
Moreover, it now seems Qatar will be the first airline to get the A320neo, even though previously announced launch customer Virgin had been expected to be the favoured one.
In a consolatory mood by now, Mr Baker blames the lawyers for the hiccup.
"Every deal sometimes gets stuck, especially when the lawyers throw spanners in the works," he says.
It is tempting to think that Mr Baker knew all along that it would end well.
After all, he need the planes to fulfil his ambitions.
"We are the best airline in the world, and we will keep on raising the bar," he says.
"We will keep on improving the product, we will grow and we will enter markets that people didn't expect us to serve."
Happy ending
The Airbus deal immediately results in a string of side orders, with Pratt & Whitney landing a major engine contract for the A320neo, with further deals expected for suppliers of everything from seats and in-flight entertainment systems.
The deal also helps Airbus's Mr Leahy finish the show on a high note, in the end having clocked up deals worth $17.6bn - just $900m short of arch-rival Boeing's orders during the week.
"Our A320neo has again been the star of the show," he declares as the event is coming to an end.
"Despite some storm clouds on the horizon, there is still strong market demand for fuel-efficient aircraft."
Perhaps it is obvious, but it is clear that Mr Baker is equally pleased.
"Ten years ago, they were laughing at us," he says, knowing full well that nobody does so anymore.