Olympus faces Serious Fraud Office inquiry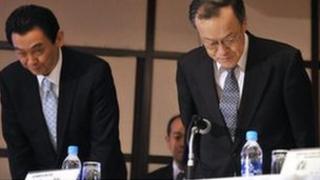 The UK's Serious Fraud Office (SFO) says that it has launched an inquiry into Japanese camera maker Olympus.
"We can confirm we have opened an inquiry into Olympus and are liaising with other organisations and international colleagues," said the SFO in a statement.
The agency said its inquiry was based on information from the former Olympus chief executive, Michael Woodford.
Olympus is already under investigation in Japan for accounting irregularities.
Earlier this month, Olympus executives admitted to hiding losses from investments made over decades.
The company is being investigated by Japan's financial services authority and has been put "under supervision" by the Tokyo stock exchange.
Questionable payments
In October, Mr Woodford alleged that the company had not properly accounted for large sums paid to financial advisers that related to mergers and acquisitions.
One of the payments was linked to the purchase of UK-based company Gyrus in 2008.
He said he was fired when he questioned the payments.
Olympus first denied any wrongdoing and asked an external panel to investigate.
However, the firm has since publicly admitted to using money from these payments to cover up substantial investment losses.